Small Premium SUV of the Year 2019: Range Rover Evoque
The Range Rover Evoque is the 2019 Auto Express Small Premium SUV of the Year, with the Audi Q3 and Lexus UX commended
As buyers flock to small premium SUVs in increasing numbers, in 2019 we finally got to drive the latest version of the car that arguably started it all: the Range Rover Evoque. The British model that put a focus on style is back at the top of the class, after beating our previous winner, the Volvo XC40, in its first road test earlier this year.
The Evoque has plenty of substance to back up its style. While the exterior isn't a revolutionary change, the interior has been overhauled, making this now the most interesting, high-quality, luxurious and tech-filled car in its class.
Cutting-edge features such as the video feed that can replace the main mirror (to improve rearward visibility) and the clever dual-touchscreen display show that the Evoque is leading the tech charge, but it doesn't sacrifice the basics.
Not only is the Evoque comfortable on our British roads, thanks to well controlled damping that can deal with potholes and lumps with fluidity, it's also a good car to drive. The driving position is comfortable, its steering is well weighted and there's plenty of grip.
Land Rover's engineering know-how means that it's still a brilliant off-roader, yet the Evoque makes more sense than ever on tarmac, thanks to its new platform. This set-up means that it's spacious inside and has a 472-litre boot, so practicality isn't in question, either. There's even more tech to be found under the bonnet, where mild-hybrid systems contribute to improved economy across the range.
The 178bhp D180 unit benefits from a small boost to help performance, with plenty of turbocharged torque on offer. The standard eight-speed auto is smooth, so this powertrain combination offers the most refinement in this class.
It's the way this second-generation Evoque so adeptly blends all of these attributes that makes it a success. It has refined the concept of the small, stylish and upmarket SUV. The original version was a sales phenomenon, shifting more than 800,000 units, and this second-generation model shows no sign of bucking that trend.
Our choice
Range Rover Evoque D180 S Auto (£39,015)
Diesel power makes the most sense in the relatively heavy Evoque, because it will still manage decent economy – around 40mpg is claimed – and the punchy D180 engine delivers decent performance. LED lights, heated leather seats and sat-nav are all standard here.
Commended
Audi Q3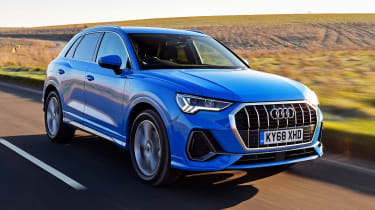 The new Audi Q3's neatly designed cabin is impressive, as are its spacious interior and comfortable ride – the latter of which doesn't come at the expense of handling, thanks to the car's MQB underpinnings. It's packed with technology and has plenty of standard kit, making it a strong contender in this class.
Lexus UX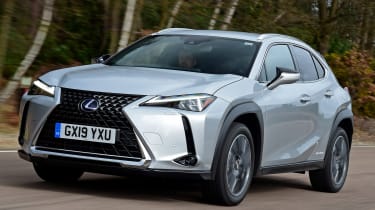 If you're looking for something a little bit different here, the Lexus UX could fit the bill. The hybrid powertrain will appeal to those looking for alternatives to petrol and diesel, while Lexus's usual high standards for quality and ownership make this a sharply styled alternative that's worth considering.
Auto Express New Car Awards 2019
For complete, in-depth coverage of the 2019 New Car Awards, buy your collector's edition copy of the Auto Express magazine now or click here to subscribe...