Roadster of the Year 2019: Mazda MX-5
The Mazda MX-5 is the 2019 Auto Express Roadster of the Year, with the Audi TT and Porsche 718 Boxster commended
Whether you choose the standard roadster or the 'Retractable Fastback' RF version, you simply can't go wrong with the brilliant Mazda MX-5.
It has all the ingredients you'd want from a car designed for fun, and yet it's not so compromised that you couldn't drive it every day. In fact, many owners use theirs all the time – and why not, if you're having so much fun? That's partly because Mazda avoided turbocharging and stuck with its naturally aspirated 1.5 and 2.0-litre petrol engines for the MX-5, so efficiency is good, but more importantly, they're fun to rev and performance is strong: 0-62mph takes just 6.5 seconds with the 181bhp 2.0-litre unit.
Another highlight of the car is the sweet six-speed manual gearbox; it's so good that it's considered a benchmark for great shift feel regardless of price. There are much pricier sports cars that don't change gear as well as this.
Because it's so light, the Mazda is also very agile. The chassis is communicative and lively, with enough compliance that even rough roads can be taken on with confidence, and you can exploit the MX-5's adjustability as much with the pointy steering as you can with the throttle.
Our choice 
Mazda MX-5 2.0 SE-L Nav+ (£22,795)
Both MX-5 engines are superb, but the new-for-2019 2.0-litre unit is worth the extra, now that it has more power and a higher rev limit. We'd stick with the roadster version because the soft top is so easy to raise and lower. SE-L Nav+ has all the kit you'd want, too. 
Commended
Audi TT Roadster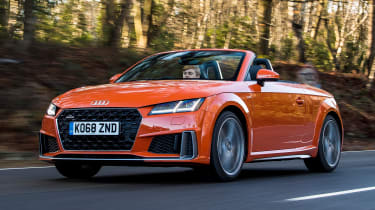 Audi updated the TT this year with more tech and a new look. It's one of the easiest roadsters to live with every day, because it has a fair-sized boot and a spacious interior, while the barely tweaked interior design has certainly stood the test of time.
Porsche 718 Boxster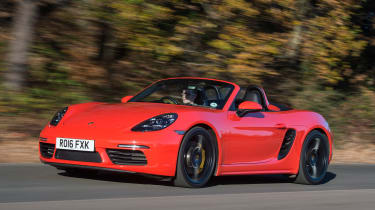 The Boxster's handling is astounding, with an incredible balance between sharp reflexes and ride comfort. Its four-cylinder turbo engine delivers amazing performance, if not a sonorous soundtrack, while the driving position is close to perfect.
Auto Express New Car Awards 2019
For complete, in-depth coverage of the 2019 New Car Awards, buy your collector's edition copy of the Auto Express magazine now or click here to subscribe...