Affordable Electric Car of the Year 2019: Kia e-Niro
The Kia e-Niro is the 2019 Auto Express Affordable Electric Car of the Year, with the Hyundai Kona Electric and Nissan Leaf commended
Earlier this year, our sister website Driving Electric named the Kia e-Niro as its car of the year, and now it has won our Affordable Electric car category for many of the same reasons.
The headline figure for the e-Niro is its 282-mile range, which puts anxiety about how far you can drive on a single charge back in its box; the Kia can go further than a lot of petrol cars can on a single tank. Running one on our test fleet has proved that its predicted range is very accurate, too.
Not only does the e-Niro have a large 64kWh battery, the e-Niro is also among the more efficient electric cars you can buy, so you get more miles per kWh than in rival models. With most electric cars, a short commute – charging at home and at work – is the best way to keep moving, but the e-Niro's long range means that it should only need to be charged up once a week for most people's needs. Long runs shouldn't be a problem and, thanks to its 100kW rapid-charging capability, the e-Niro is well ahead of the infrastructure curve. A more common 50kW rapid charge takes just over an hour, too.
But it's not all about the battery, because the e-Niro is a great car in its own right. It's easy to drive, with light steering and good visibility, and the interior is spacious. Because the Niro was designed with electrification in mind, there's plenty of room in the back and a useful 451-litre boot, too.
Plus the Kia is comfortable – it rides smoothly even over big bumps and potholes – and the electric powertrain means that it's pretty quick, too. Around town, little can keep up with it, thanks to the instant torque and 201bhp on offer from the motor, while it also has one of the most user-friendly regenerative braking systems on the market.
The car is packed with equipment as well. Its intuitive infotainment system features sat-nav and smartphone connectivity, which both work really well. You can find local charging points easily using this built-in set-up, so the added EV functionality is as comprehensive as the rest of the package.
Our choice
Kia e-Niro First Edition (£32,995 incl Govt. grant)
There's only one version of the e-Niro available at the moment, so you're spared the agony of choice here. First Edition trim is packed full of kit, with premium features such as heated leather seats, a reversing camera, nav and phone connectivity, and wireless charging, so you won't feel you're missing anything.
Commended
Hyundai Kona Electric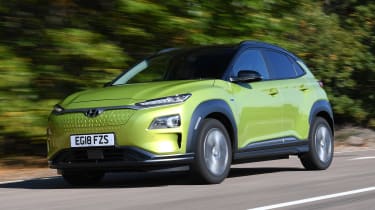 Last year's winner is still right up there with the e-Niro, because it offers the same usable range, has a tech-filled interior, a long list of kit and excellent infotainment. It's slightly less practical than the Kia, but it's still a fantastic choice, thanks to the shared powertrain.
Nissan Leaf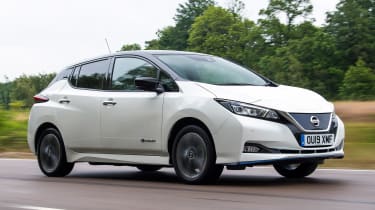 The Leaf is comfortable, quiet and good to drive, and the line-up has been bolstered with the addition of the new 62kWh 'e+' version. This offers a much larger range to help keep you on the road longer between charges, so it's still competitive with the e-Niro and Kona Electric.
Auto Express New Car Awards 2019
For complete, in-depth coverage of the 2019 New Car Awards, buy your collector's edition copy of the Auto Express magazine now or click here to subscribe...