Executive Car of the Year 2019: BMW 5 Series
The BMW 5 Series is the 2019 Auto Express Executive Car of the Year, with the Mercedes E-Class and Volvo S90 commended
An executive car needs to bring a lot to the table in order to be considered by buyers in this competitive sector, but the BMW 5 Series is still head and shoulders above its rivals. It's an incredible all-rounder that's refined, efficient, good to drive, comfortable and packed with tech.
A new platform helped the 5 Series head straight to the top of the class a few years ago, and it has stayed there. The strong but light fundamentals that underpin the car have allowed BMW to set the car up to balance fun and comfort, so this is by far the most enjoyable car to drive in its class. The driving position, agile chassis and superb body control mean that it's incredibly capable for its size.
There's a range of four and six-cylinder engines to choose from, plus the V8 in the M5 super-saloon that will appeal to petrolheads. There's even a plug-in hybrid version for those looking to cut running costs dramatically, but it's the 187bhp 2.0-litre four-cylinder 520d that we'd choose because it balances performance, refinement and economy brilliantly. The BMW's standard eight-speed automatic transmission makes driving superbly relaxed as well.
The optional adaptive dampers give the 5 Series an incredibly broad range of ability. You can go from total comfort on a motorway to a spirited drive on a back road by switching between the softer and stiffer settings, yet even in the sportier modes it never feels unsettled.
The interior is similar to other models using BMW's latest platform, including the 7 Series luxury car – which is a very good thing. The materials are of high quality and the cabin has a neat design, along with superb infotainment that's modern and easy to use. It features an excellent sat-nav with live traffic updates, too, plus all of the other tech you'd expect from a car at this level, including semi-autonomous driving aids available as options.
Interior space is another huge plus point; there's plenty of leg and headroom in the rear. It's the icing on the cake that makes the 5 Series such a well-rounded package.
Our choice
BMW 520d SE (£38,710)
You can go for an M Sport model if you prefer the looks, but SE makes more sense because it has so much standard kit. That includes the impressive and intuitive infotainment system, as well as sat-nav and lots of safety features. The 520d is the top engine choice because it mixes economy and performance brilliantly, with claims of more than 50mpg and 115g/km CO2, and a 0-62mph time of 7.3 seconds.
Commended
Mercedes E-Class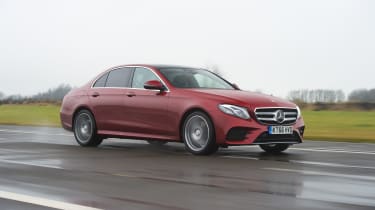 The E-Class lost out to the 5 Series because it's not as fun to drive nor as comfortable as its main rival, but it still makes a fine choice. It has a luxurious, spacious and well built cabin, including impressive digital displays, and the range-topping E 63 variant is a modern-day hot-rod.
Volvo S90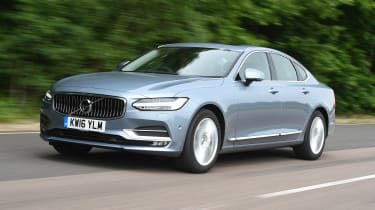 Volvo's S90 is the best option to go for if you don't want a German saloon. Its interior follows a minimalist ethos so it looks ultra-modern and very stylish, but it's also fitted with loads of safety kit and a great infotainment system. It's comfortable and spacious inside, too.
Auto Express New Car Awards 2019
For complete, in-depth coverage of the 2019 New Car Awards, buy your collector's edition copy of the Auto Express magazine now or click here to subscribe...