Small SUV of the Year 2019: Citroen C3 Aircross
The Citroen C3 Aircross is the 2019 Auto Express Small SUV of the Year, with the Dacia Duster and Volkswagen T-Cross commended
Citroen's C3 Aircross is something a bit different to the norm in the Small SUV class, but it's all the better for it. Rather than following convention, it takes a more individual, characterful approach, with its quirky looks and a focus on the things that really matter to customers in this class.
Comfort is a huge factor for buyers of small SUVs, because they'll be used every day for tasks such as the school run or a commute, and the Citroen is top of its class here. The soft suspension means that the French model soaks up rough tarmac, only losing its composure over really rough roads; and while the C3 Aircross isn't the most dynamic small SUV, the sacrifices made here pay dividends elsewhere.
It's light and airy inside the cabin, helped by the car's lofty roof, which also means that there's plenty of passenger space in both the front and rear. The interior design is much more interesting than any of its rivals', adding an injection of flair to lift the mood, and it's backed up by solid build and decent material quality. You can also add equipment to its list of attributes, because many models get a seven-inch colour touchscreen with the latest smartphone connectivity, which is well integrated.
Depending on spec, sliding rear seats mean that the Aircross has between 410 and 520 litres of boot capacity. That flexibility lets you prioritise either passenger space or luggage room depending on your needs. Such practicality, mixed with good ride comfort, makes it work really well as an everyday car.
The Citroen also features a range of economical and punchy three-cylinder PureTech petrol engines. There's even a 1.5-litre diesel, but we'd stick to the 1.2-litre petrol range, because the motor is peppy and offers good performance despite its small capacity. The tiny turbo also boosts the power on offer to deliver solid economy and low running costs.
It's admirable that Citroen has looked to its heritage and individuality for inspiration for the C3 Aircross without becoming a pastiche of itself. This model is a stand-out car because it treads its own path incredibly successfully.
Our choice
Citroen C3 Aircross PureTech 110 S&S Feel (£17,855)
We'd go for the 108bhp three-cylinder petrol C3 Aircross, because the engine is punchy and you'll save money over the higher-powered 128bhp model (which only adds a small amount of extra performance in reality). It's also economical, while Feel trim gets a seven-inch touchscreen with Apple CarPlay and Android Auto as standard, which you can use as a sat-nav.
Commended
Dacia Duster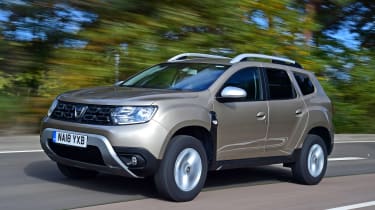 If maximising value for money is your thing, the Dacia Duster is by far the top choice. This is the cheapest car in its class, yet it's also very practical, with a big boot and lots of rear-seat space. It's decent to drive and one of the best off-roaders in this price bracket, too, plus this updated model is even more comfortable and gets some advanced tech.
Volkswagen T-Cross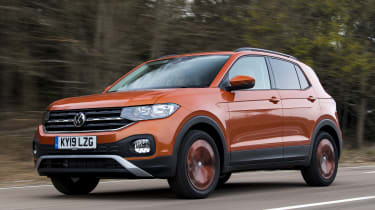 The VW T-Cross is stylish and spacious, and has plenty of standard kit. It's better to drive than the C3 Aircross, yet it doesn't sacrifice too much comfort. The quiet engines are another reason to choose the Volkswagen, but some budget plastics inside mean that the Citroen is still better value for money.
Auto Express New Car Awards 2019
For complete, in-depth coverage of the 2019 New Car Awards, buy your collector's edition copy of the Auto Express magazine now or click here to subscribe...