Premium Hybrid Car of the Year 2019: Mercedes E 300 de
The Mercedes E 300 de is the 2019 Premium Hybrid Car of the Year, with the Range Rover P400e and Volvo XC60 T8 Twin Engine commended
Diesel isn't dead – especially when it's combined with a battery pack and electric motor in a brilliant executive saloon package such as the Mercedes E 300 de. It's the most convincing premium hybrid car on sale today.
Many premium hybrids that are based on executive cars use a petrol engine in combination with a battery and electric motor, but the E 300 de uses Mercedes' solid 191bhp 2.0-litre turbodiesel. This means the hybrid system matches the E 300 e petrol plug-in for C02 emissions and running costs around town – not to mention refinement and relaxation, thanks to the boost from the 120bhp electric motor. But it eclipses it for economical cruising on the motorway, which is where many of these cars will spend their time. This is a plug-in hybrid that combines the best of both worlds.
There's a total of 302bhp on offer and a huge 700Nm of torque, so performance is impressive; 0-62mph takes 5.9 seconds. But with the electric boost helping to take the load off the diesel engine, it's refined, as any premium car should be.
You pay a price in load space, because the car's 400-litre boot is smaller than the one in the regular E-Class saloon. But you benefit from CO2 emissions of just 41g/km (and as much as 202mpg possible if you plug in religiously), which mean much lower company car tax and running costs for business users.
The cabin is pure E-Class, which means excellent infotainment, with twin 12.3-inch screens available, plenty of high-quality materials and a spacious interior that offers plenty of comfort and refinement – and that's what defines this car. Press on, and you can feel the plug-in E-Class's extra weight over its conventional combustion-engined siblings in corners.
The battery takes just one hour 15 minutes to charge using a home wallbox or public charging post – and all the power cables are included as standard, unlike with some other premium PHEVs.
When the 13.5kWh battery is topped up, Mercedes claims an all-electric range of up to 32 miles, so some commuters might not need to fill up for weeks, but the torquey diesel is there when you need it.
Our choice
Mercedes E 300 de EQ Power SE Hybrid (£47,700)
We'd go for the entry-level SE Hybrid trim, because it's the cheapest version, yet it still comes with LED lights, nav, heated leather seats, cruise control and plenty of safety tech, including AEB and blind-spot assist. We'd spend the money you save upgrading the already advanced infotainment with the Premium pack, which adds wireless charging and a larger 12.3-inch display.
Commended
Range Rover P400e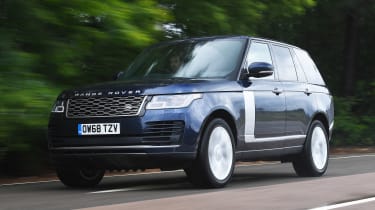 The P400e is a worthwhile addition to the Range Rover line-up. This substantial SUV shows how the sector is moving on, and the tech combines with luxury in a package that boasts all the best bits of a Range Rover. The petrol engine is a little noisy, but otherwise it's a great luxury PHEV.
Volvo XC60 T8 Twin Engine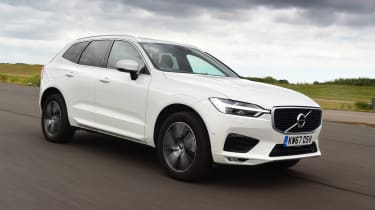 Volvo's XC60 T8 is still a great plug-in. It offers SUV looks and practicality with little drawback from fitting the hybrid powertrain. There's massive performance, with 385bhp and up to 34 miles of electric driving range. That means CO2 emissions as low as 47g/km and claimed economy of up to 100mpg.
Auto Express New Car Awards 2019
For complete, in-depth coverage of the 2019 New Car Awards, buy your collector's edition copy of the Auto Express magazine now or click here to subscribe...