Van drivers risking fines for phone use
More than half of van drivers admit to not having hands-free phone kit, or having it but not using it while driving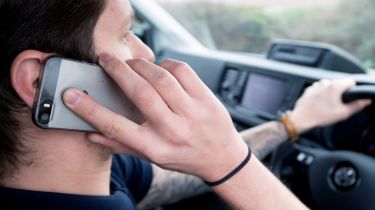 A new survey has revealed that more than half of van drivers have admitted to using a mobile phone at the wheel without using a hands-free device. That's despite the introduction of tougher laws on phone use at the wheel in 2017, as well as the fact that a third of drivers admitted to not using the built-in phone kit that's fitted to their van
The shocking results revealed that on average van drivers spent 35 minutes on the phone in their vans, with one in 10 spending two hours on the phone while driving. Yet the survey also revealed that 23 per cent of van drivers didn't have hands-free phone kits in their vehicles, and a third of participants said that while their vans had a hands-free kit, they didn't use it.
The most recent Government statistics show that despite increased fines of £200 and six penalty points on your licence, nearly half a million drivers still use their phones behind the wheel. That includes voice calls, texting, taking photos or video and even using social media.
Sarah Cox, head of marketing at Volkswagen Commercial Vehicles that commissioned the survey, said: "Our figures show that many van drivers don't have or aren't using a Bluetooth hands-free kit behind the wheel – risking not only a fine and potential ban, which would damage business, but, more seriously, a potentially fatal accident.
"As part of our Working With You promise, we ensure all our customers have the right accessories and equipment to make their jobs as easy and safe as possible."
All models in the VW Commercial Vehicles range are fitted with Bluetooth, while Apple CarPlay and Android Auto smartphone connectivity are also offered. It's a similar story for rival manufacturers, too, with the majority of makers now offering Bluetooth and smartphone connectivity as standard even in their cheapest models.
Do you use your phone while driving, or have witnessed others doing so? Let us know in the comments below...