Best Bluetooth hands-free car kit: visor-mount and earpiece reviews
What is the best Bluetooth hands-free kit for your car? Here are our top visor mounts and earpieces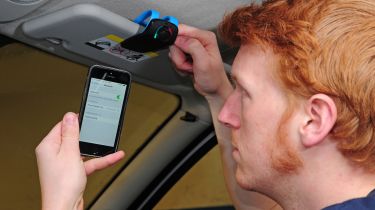 Buying one of the best Bluetooth hands-free kits for your car is one of the easiest ways to stay legally connected to your phone on the move. Whether you pair your device with an in earpiece or visor-mounted unit, these Bluetooth phone kits will enable you to make and receive calls safely while driving.  
The consequences of using your phone while driving (without the appropriate hands-free devices) are severe – six points on your licence and a £200 fine is a given, but the potential to devastate lives should you crash while focusing on your phone and not the road is much greater. It all goes to make a proper in-car hands-free kit a very good investment and we've tested 12 of the best here.
• Best traffic apps for your phone
How we tested them
Setting up a connection between phone and hands-free kit was the first test, with the most user-friendly scoring best. Those that can connect to more than one phone impressed, while we mainly looked for ease of use.
Audio quality was also key. Earpieces had to be comfortable and visor kits simple to fit. Price was the final factor, taken from a range of sources as we went to press.
Verdict
Jabra's MOTION remains the best earpiece, while the Jawbone ERA impresses on its test debut. Plantronics scoops a second visor mount win with the K100, ahead of the Parrot Minikit Neo 2 HD.
Visor mounts
1. Plantronics K100
2. Parrot Minikit Neo 2 HD
Earpieces
1. Jabra MOTION
2. Jawbone ERA