Volkswagen Camper to return in growing Beetle range
Volkswagen will re-introduce its iconic Camper, as well as a sporty Beetle and an SUV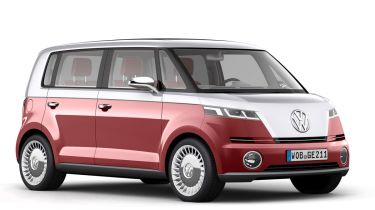 Volkswagen is working on an all-new Beetle, as well as new retro family of Beetle-based models that's set to include a revival of the famous campervan, a stylish coupe and a crossover.
The Volkswagen Beetle is based on the MkVI Volkswagen Golf, but this new family of cars will be underpinned by the new MQB vehicle architecture found in the latest Golf.
It's unclear whether each model will wear the Beetle nameplate, but the belief internally is that Volkswagen's Beetle brand is strong enough to support a range of models all of its own, as Fiat is doing with the 500, 500X and 500L.
The most exciting model in the proposed future Beetle family is the revived Volkswagen Camper, which we've seen most recently as the Bulli concept at 2011's Geneva Motor Show. That was related to the Volkswagen up! city car and had an all-electric powertrain – but now a larger, Beetle-based model is in favour.
The word from within Volkswagen is that the exterior design will be sixties-inspired, but the technology underneath will be fully up-to-date, including power from the new range of 1.0-litre three-cylinder engines and optional four-wheel drive.
The good news is that a new Volkswagen Camper is supposedly coming – but the bad news is it's not expected to arrive until the all-new Beetle is released in 2019.
Sporty Volkswagen Beetle and SUV on the horizon
Alongside the existing hatchback and Cabriolet models, Volkswagen is working on a future sports car version of the Beetle, much like MINI has done with the Coupe. This model will borrow the low-slung silhouette of the e-Bugster concept, featuring a narrow window line and styling that is marked out from the rest of the Beetle range.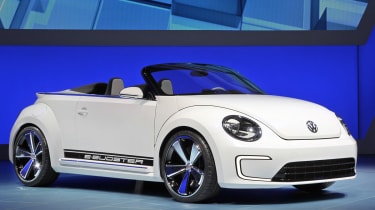 Under the sporty new body, Volkswagen will use its most powerful drivetrains, such as the 296bhp four-wheel-drive set-up from the Golf R. Completing the future line-up will be an SUV-style model in the spirit of the Beetle Dune concept seen at the Detroit Motor Show in January. Jacked-up suspension and rugged plastic cladding will help Volkswagen capitalise on the crossover boom.
Expect the range to include hybrids, as well as three-cylinder petrol and diesel engines. Volkswagen's 4Motion four-wheel drive will be fitted to top-spec cars.