Volkswagen could build a big pick-up truck for the US
With the Amarok apparently unsuitable for the US market, Volkswagen is looking at ways of offering an even bigger truck in the US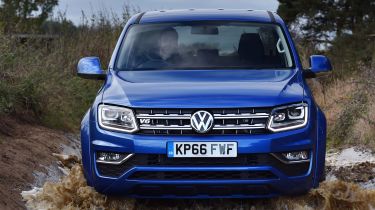 Volkswagen is actively considering how it could build a large pick-up truck to take on home-grown stars like the Ford F-150 and the Dodge Ram in the American market, the firm's US boss has revealed.
The German manufacturer has had to rethink its plans for sales growth in the US region, in the wake of its dieselgate scandal. But it launched the large Atlas SUV - a car designed specifically for American tastes - at the recent Los Angeles Auto Show, and VW USA boss Hinrich Woebcken admitted that even larger vehicles could be on the agenda.
• Best pick-up trucks to buy now
"We hope that the likes of the Atlas will help us to get up to 70 percent model coverage for the United States," Woebecken said, "and if you look at the 30 percent remaining beyond that, these are big pick-up trucks, with ladder-frame structures. VW doesn't have this architecture in its toolbox. This is also a very patriotic sector - the Ford F-150s, the Dodge Rams.
"Sure, as a growing company, we visit and re-visit those thoughts on a frequent basis. But we don't have concrete plans to enter this area of the market just now. Don't forget we are still a small car company in the US and we are currently shifting up to what the Americans call B-segment SUVs, with the Atlas. Let's digest that first before we try to stretch even further."
When asked if the Amarok could make it to the US, Woebecken said, "I could imagine a pick-up fitting nicely, if you do it well and to the brand - but Amarok isn't ready for the US, in terms of cost, so it doesn't fit. It has too many passenger car features, so it's not the right product. In any case, the segment for pick-ups the size of Amarok isn't so big; it's the larger ones where the real numbers are.
"In the very near future it's not the highest priority but I can say we are going to visit and re-visit this sector," he concluded. US sales of the largest pick-ups account for more than 1.5 million units annually - so the market is likely to be on VW's medium-term radar as it aims to recover ground lost during dieselgate.
Do you think Volkswagen should enter the heavy pick-up truck market in the US? Let us know in the comments...