New VW Golf to trade diesel for hybrid in 2018
Diesel could be on the way out as Volkswagen's clever 48v mild hybrid system is set to improve petrol engine economy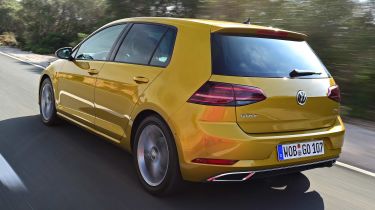 The next VW Golf is likely to ditch its smaller diesel engines in favour of micro-hybrids using 48-volt electric technology, the company's boss has suggested.
The newly facelifted Mk7 Golf is offered with a mix of 1.6- and 2.0-litre four-cylinder diesels, with power outputs ranging from 113bhp up to 181bhp. However, speaking at the launch of the car, VW boss Dr Herbert Diess admitted that the future of smaller diesel engines is now uncertain, because of the increasing costs of cleaning up the technology for ever-tightening legislation.
"The next Golf - the Mk8 - will lead a strong rollout of 48-volt electrics for us," said Diess. "I think we will have to substitute some of the diesels for micro-hybrids in that car; they will have similar fuel efficiency and better acceleration, but have a similar cost or even slightly less."
• Best low emissions green cars
It's believed that the micro-hybrid Golf would use a version of the latest car's 1.5-litre four-cylinder turbocharged petrol engine, which has the capability to close down completely when cruising. This could be mated to a small electric motor, perhaps with as little as 15bhp, that would use the 48V electrics to manage charge levels and provide assistance for the combustion engine under acceleration.
The Mk8 Golf is not expected to make its public debut until 2020. It will be based on an evolution of the existing MQB platform, but will be the first mainstream VW Group car to get the 48V tech that we've already seen on premium models like the Audi Q7 and Bentley Bentayga.
If VW has decided to drop the 1.6-litre diesel from its best-seller, it's also likely to have implications for the Polo, which also uses that engine. Diess declined to confirm if the forthcoming Mk6 Polo, expected by the end of this year, would be the last generation to get diesel power - but he admitted, "That area of the market is particularly price-sensitive and as diesels get more and more expensive, they really become only relevant where you are regularly travelling very long distances. And most A0 cars [superminis like the Polo] travel about 50 kilometres (30 miles) per day."
What do you think of Volkswagen's plans? Let us know below...