Volvo V40 vs rivals
Volvo is aiming to turn the tide in the family hatch class with its new V40. We test it against its key rivals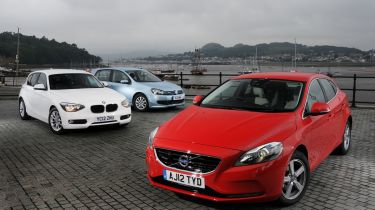 Is Volvo sailing into choppy waters? After more than 15 years, the company is returning to the fiercely fought family hatch class with its all-new V40.
The car is being billed as the manufacturer's most important model in 20 years, and expectations are sky-high. Yet with upmarket rivals like the BMW 1 Series already established and new versions of the Audi A3 and Mercedes A-Class on the horizon, the V40 will need to be very accomplished to succeed.
Fortunately, the D2 version – which is expected to make up the majority of UK sales – looks very promising on paper, thanks to its stunning design, generous standard equipment and class-leading CO2 emissions of only 94g/km.
Facing the V40 is BMW's 116d EfficientDynamics. It's already been crowned Compact Family Car of the Year at our New Car Awards 2012, due to its blend of a premium badge, sharp handling, decent space and low running costs. And no family hatch test would be complete without the VW Golf. In eco-friendly BlueMotion trim, this car represents a very stern test for any class newcomer.
Verdict
Each of these cars shone in its own way during this test, and the final result was far from certain. In the end, it came right down to the wire, but the BMW just manages to keep its place at the top.
Volvo should take heart, though, as the V40 is the best car it has made in years and was very close to snatching victory. It's set apart by its quirky, stylish cabin and svelte exterior, while quality is right up there with the very best.
It also offers unrivalled safety technology and is at its best on long trips, where its relaxed character, well equipped interior and brilliant seats come to the fore. It falls just short of the 1 Series due to its small boot and slightly less involving driving experience; the BMW is still the number one choice for keen drivers.
So the Golf brings up the rear. It remains an incredibly accomplished package in many ways, but it's starting to show its age now.