Aston Martin V12 Vantage S Roadster review
We test new flagship Aston Martin V12 Vantage S Roadster - can it beat the rival Porsche 911 Cabriolet?
The Aston Martin V12 Vantage S Roadster has slotted itself in to a niche, as a genuinely exciting soft top sports car. It has its flaws: the gearbox needs to be smoother and the infotainment system needs improving but there are driving thrills on offer here that a 911 Turbo S Cabriolet can't deliver – despite its rocketship pace. The V12 Vantage S's problem could be the Jaguar F-Type V8 S, which offers a similar experience for a price that starts at about £60,000 less.
Just as Aston introduced a new V12 Vantage S version of the coupe, now there's a new flagship Roadster in the range, too.
Now fitted with the 565bhp 6.0-litre V12 from the Vanquish, the S has 55bhp more than the standard V12 Vantage, along with a new stainless steel exhaust.
Performance is improved, with the 0-62mph time dropping from 4.5 to 4.1 seconds – and that acceleration is absolutely brutal. Flooring the throttle in second gear results either in a neck-snapping jolt of acceleration or plenty of noisy wheelspin, depending on how much traction you've got.
Astons always sound great but the combination of a roof-down blast and that new stainless steel exhaust system, means the V12 Vantage S Roadster is one of the best-sounding yet. You'll find yourself keeping it in a lower gear than you need to and pressing the Sport button just to make the most of the thunderous, crackling exhaust note.
It's best to keep control of the gears yourself all the time you're driving, too, because then you can smooth out the shifts a bit. Lifting off the throttle just as you pull the lever should do it, otherwise there's a noticable gap in acceleration that can cause your head to nod forwards. As a result, it's nowhere near as easy to drive around town as a Porsche 911 Turbo S Cabriolet.
The handling feels a little purer and involving than that on offer in the 911, though. On the right piece of twisting road the rear-wheel-drive chassis pairs up wonderfully with the revised steering. It's slightly quicker than before – and will be a little heavier in Sport mode – making the Vantage S feel really nimble.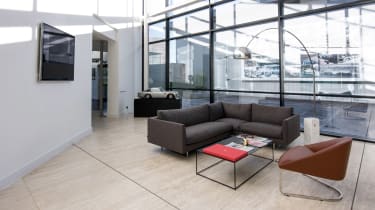 What shines through is its inherent balance; understeer isn't really a problem and depending on your confidence levels, there's a huge amount of adjustability to be found in the corners by simply flexing your right foot to kick the back end out. This soft-top has lost none of the Coupe's character. It's so refreshingly pure that you can forgive some of its foibles, like the engimatic infotainment system.
It even rides quite well with the dampers in the Normal setting. It's only when you up the intensity to Track mode that you begin to get bounced around the cabin. And hood-up refinement is pretty impressive, too.
It's not the fastest or greatest everyday car you can buy for £150,000, nor is it the most hi-tech, but it looks great, sounds incredible and will never fail to entertain you on a twisting road.