Best free insurance car deals 2019
Free car insurance is a big deal, especially if you are a young driver as the savings on your premium could be huge
Looking for new cars that come with free insurance is like wading into murky water. There are many offers out there claiming to provide free insurance, but the truth of the matter is, you will always end up paying more for the car if there is a free insurance deal tagged on than you would normally – especially if you are a younger driver.
You need to make sure that the car-plus-insurance deal you are considering really is a cheaper option than just buying the car and the insurance separately in the traditional fashion.
While many 3rd party businesses offer cars with free insurance, here we are sticking to those free insurance deals that you can get direct from the manufacturers. As aside from saving you money, one of the benefits of included insurance is that you can streamline the number of companies you deal with, which will also save you time in the long run.
It's not just free insurance deals you'll encounter out there on the market. Several manufacturers are offering car finance deals whereby you pay one monthly payment to cover for all motoring costs, not just insurance. These 'just add fuel' deals allow drivers to pay for fuel, insurance, servicing, road tax and breakdown cover in one easy payment. Peugeot are arguably the forefathers of this type of deal, however, Volvo is planning to take things one step further with its scheme, packing nifty features like refueling while you are at work.
Irrespective of which marque you go for, all the deals listed below come with free insurance...
Cars with free insurance
Citroen: SimplyDrive
Much like its PSA brethren, Citroen offers a simple three-year finance package that covers the cost of a car, insurance, service, roadside assistance, warranty and road tax. Offers are available on most of its range, but below is a selection of the best deals on specific models. It is worth noting though that Citroen only offers its just add fuel deals to drivers who are 18+, and even then you will need to instal a telematics box until you reach 21. Also, Citroen restricts which cars are available with SimplyDrive based on your age.
Citroen C1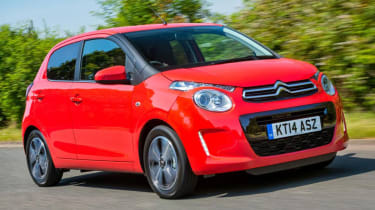 Model: C1 Feel*Customer deposit: £2,275Monthly payment: £234.51Number of payments: 35Annual mileage: 6,000Excess mileage charge: 6.6p per mileOptional final payment: £4,066APR: 2.9%
The C1 is a stylish little city car that can be bags of fun to drive. Its peppy engine and diminutive proportions help make it feel nice and nimble on the road, and it is a massive improvement on the old C1 in terms of interior quality. However, the C1 is beaten by the Skoda Citigo is most aspects, including driving experience and space.
Citroen C3 Aircross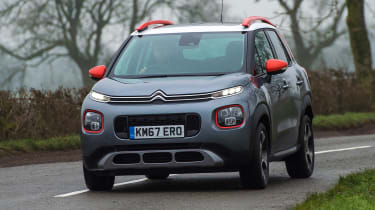 Model: C3 Aircross*Customer deposit: £2,500Monthly payment: £350.33Number of payments: 35Annual mileage: 6,000Excess mileage charge: 10.2p per mileOptional final payment: £8,475APR: 4.9%
Citroen did a good job with the styling of the C3 Aircross, making it stand out in an increasingly congested market place (not that funky styling is everyone's cup of tea). The interior brings with it a certain feel-good factor, but is also practical, so drivers could do a lot worse.
*All quotes are based on a policy with the youngest driver being aged 21.  
Peugeot
Peugeot has probably the best known 'Just Add Fuel' scheme, mostly because the the term was coined by it. While the service isn't packaged in the same high-end wrapping as Volvo's effort below, you do get all the essentials for motoring (minus the fuel of course) in one easy monthly payment: 3 years insurance, 3 years tax, 3 years warranty, 3 years roadside assistance and 3 years routine servicing.
As it is considerably cheaper than the likes of Volvo, it could be an excellent option for younger drivers who are struggling to cover the costs of a car, insurance and maintenance. As with Citroen, Peugeot only offers these deals to drivers who are at least 18, a telematics box will need fitting until you are 21 and restrictions apply on which cars are available based on your age. The range of models included in Peugeot's Just Add Fuel scheme ranges from city cars to SUVs, examples of which can be found below.
Peugeot 108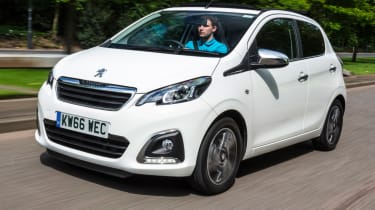 Model: 108 Active 1.0l*Customer deposit: £2,275Peugeot deposit contribution: £1,000Monthly payment: £191.49Number of payments: 36Annual mileage: 6,667Excess mileage charge: 5p per mileOptional final payment: £4,153APR: 4.9%
The Peugeot 108 and its sister cars from Toyota and Citroen brough style to the city car sector back when they were launched. The new 108 improved the look and feel of the interior compared to the outgoing model, with a touchscreen infotainment system being standard on everything except the most basic model.
Peugeot 208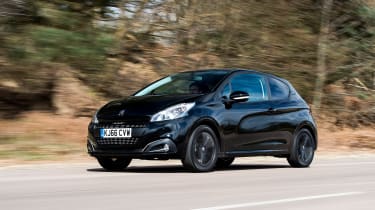 Model: 208 Active 1.0l*Customer deposit: £2,481Peugeot deposit contribution: £3,000Monthly payment: £230.77Number of payments: 36Annual mileage: 6,667Excess mileage charge: 6p per mileOptional final payment: £4,579APR: 2.9%
The 208 may be getting on in car years and is due to be replaced very soon, but it is still a good looking hatchback. The Ford Fiesta has it beaten for driving involvement and the ever popular MINI has more desirability, but the the Just Add Fuel deals help make the small French hatchback stand out.
Peugeot 5008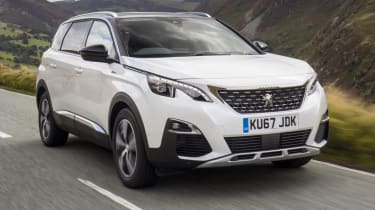 Model: 5008 Allure 1.2l PureTech*Customer deposit: £1,500Peugeot deposit contribution: N/AMonthly payment: £496.74Number of payments: 36Annual mileage: 6,667Excess mileage charge: 10p per mileOptional final payment: £13,839APR: 5.9%
The Peugeot 5008 went through a majestic transformation in just one generation: from boxy MPV to sleek SUV. It has a functional, well equipped and stylish interior, and even has enough room for seven occupants. While it loses out to the Skoda Kodiaq for driving experience, the Peugeot does enough to stand out as something a little different in a swamped SUV market.
*All quotes are based on a policy with the youngest driver being aged 21.  
Renault
Renault offers free insurance for one year when purchasing a new Clio, excluding the Expression and Renault Sport models (spoil sports). Renault's offer may not be as all-inclusive as those from the PSA family, but nonetheless it could be worth taking advantage of. You have to be aged between 21 and 79, you have to have at least one year's no claims bonus and the offer cannot be used in conjunction with another Renault deal. Also, you must order your Clio before the end of 31st of March and register the car by 30th of June.
Renault Clio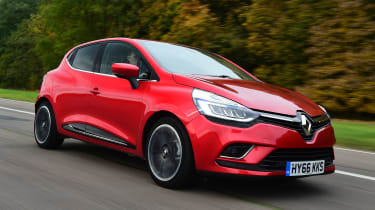 Model: Clio Urban Nav TCe 90Customer deposit: £5,030Monthly payment: £149Number of payments: 36Annual mileage: 6,000Excess mileage charge: 8p per mileOptional final payment: £5,831APR: 0%
While Renault has a very limited selection of offers with free insurance, it does offer short-term 7-day free insurance when you buy a new or used car from its dealers. Not much use for the other 358 days of the year, but takes the stress away from finding the right insurance immediately after buying the car.
Volvo
Volvo offers a scheme called 'Care by Volvo', which gives users the same insurance, roadside assistance and road fund licence as seen above with the PSA marques, but also offers extra features such as refueling while you are at work and a concierge service which has nifty things like enabling directions to be sent to your sat-nav and making a restaurant booking. There are also plans to let owners have parcels delivered to their Volvo. These services are not free but for motorists looking to get all their costs grouped together, this could be an excellent option.
At the moment Care by Volvo is only available on the new XC40, and to those living inside the M25, but Volvo is promising to develop the programme further. Drivers must be between 25 and 79 years old, have held their licence for at least two years and have one full year's worth of no claims discount. The cost for Care by Volvo is as follows.
Volvo XC40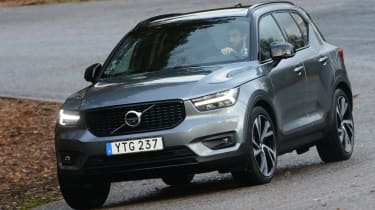 Model: Volvo XC40 First EditionAdvanced rental: £779Monthly rental: £779Number of payments: 23Length of agreement: 24Annual mileage: 15,000NB: excess charges apply
Volvo had been on a bit of a roll prior to the XC40, so the stakes were pretty high. The good news is that the XC40 is a very good car. It won't knock your socks off in terms of driving involvement, but that is commonplace in its sector.
Very few of its rivals can come close to its refinement, cruising comfort, excellent interior design and clever packaging. Which means that the XC40 supports the premium cost of Care by Volvo.
If you decide that included insurance isn't for you, why not take a read of our tips and advice article on how to save money on insurance quotes?