Best company cars £30,000 to £50,000
Here are the best company cars between £30,000 to £50,000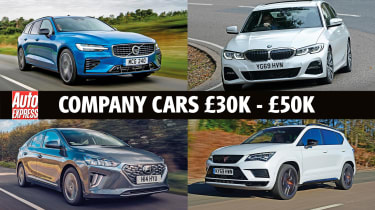 Volvo V60 D3 R-Design Auto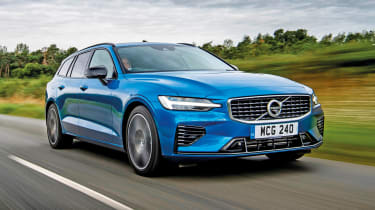 Price:

£39,135

Engine/power:

2.0-litre 4cyl/148bhp

CO2/BiK band:

149g/km/32%

0-62mph/top speed:

9.9 secs/127mph

Monthly BiK Bill

High rate:

£411

Monthly BiK Bill

Low rate:

£205
Volvo is famed for its estate cars, and the V60 lives up to that reputation by offering something different to the German alternatives on the market. Prioritising comfort, it's a well built, technology-packed, spacious and stylish machine that rides well, even on larger 19-inch wheels.
The D3 diesel engine is torquey enough and the eight-speed automatic transmission is silky-smooth, making life on the motorway especially relaxed. As you would expect, passenger space is excellent, and while the 529-litre boot is not the biggest in the class, it's more than enough for most people's needs. Fuel economy of up to 51.4mpg and WLTP CO2 emissions of 149g/km are good for a vehicle this size, too, and make for affordable running costs.
Standard kit with R-Design trim includes cruise control, dual-zone climate control, leather upholstery, a long list of safety systems you'd expect from a modern Volvo, and a nine-inch infotainment screen. There's also a head-up display, active headlights and sportier looks.
Hyundai Ioniq PHEV Premium SE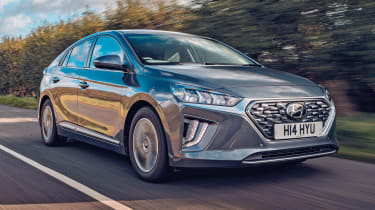 Price:

£32,250

Engine/power:

1.6-litre 4cyl petrol-electric/139bhp

CO2/BiK band:

26g/km/10%

0-62mph/top speed:

10.6 secs/110mph

Monthly BiK Bill

High rate:

£107

Monthly BiK Bill

Low rate:

£54
If you can forgive the unremarkable driving dynamics and bland styling, the Ioniq PHEV is a highly competent, well-built vehicle that could slash your running costs.
On paper the Ioniq PHEV will hit 257mpg, and while Auto Express managed 'just' 82mpg when we ran one for several months, that's still highly impressive. But its official CO2 emissions of 26g/km give this BiK bills lower than a city car's, making it a great business machine.
Practicality isn't in question, and standard kit includes a 10.25-inch touchscreen with smartphone connectivity and nav. Premium SE adds blind-spot detection and rear cross-traffic alert to the extensive list of safety features.
Skoda Superb iV Estate SE L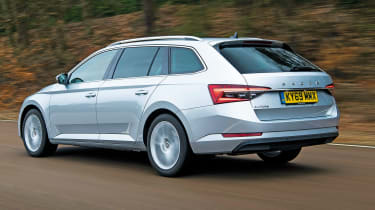 Price:

£37,320

Engine/power:

1.4-litre 4cyl petrol-electric/215bhp

CO2/BiK band:

31g/km/12%

0-62mph/top speed:

7.8 secs/138mph

Monthly BiK Bill

High rate:

£106

Monthly BiK Bill

Low rate:

£53
Skoda is on something of a hot streak right now, and the Superb iV Estate is a perfect example. The 'iV' denotes this is a plug-in hybrid, with a 13kWh battery that gives the car up to 35 miles of electric range.
You could feasibly do most of your driving on electric power, and the low CO2 emissions make BiK rates incredibly affordable and the Superb iV sorely tempting. Plus performance hasn't been sacrificed for economy; the Superb has a terrific turn of speed.
The iV is only available with mid-spec SE L trim and above, so kit is generous, yet BiK bills for higher-rate taxpayers are the same as on a family hatch.
Cupra Ateca Comfort & Sound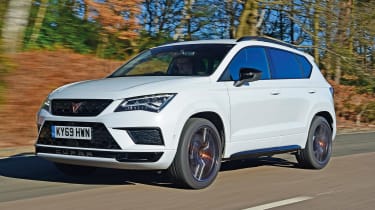 Price:

£40,120

Engine/power:

2.0-litre 4cyl/296bhp

CO2/BiK band:

197g/km/37%

0-62mph/top speed:

5.2 secs/153mph

Monthly BiK Bill

High rate:

£478

Monthly BiK Bill

Low rate:

£239
Performance SUVs are the latest niche in the market, and the Cupra Ateca is the sporty standalone brand's take on the SEAT Ateca SUV. It brings more power and more performance to the table at a more affordable price than the likes of the Porsche Macan.
With 400Nm of torque, the Cupra's acceleration is mighty, taking just over five seconds to hit 62mph. And the company's engineers have done a tremendous job with the handling too, because it's relatively composed for a higher-riding SUV, and there's a decent level of grip and traction, thanks to four-wheel drive.
The 2.0-litre turbo engine has plenty of poke, but in a heavier SUV body the cost is high emissions. Yet while this might look like a dearer option, compared with other performance SUVs this lets company car drivers have their cake and eat it. Fuel efficiency is even acceptable as long as you don't use all its performance all the time.
If you can spare the cash, add on the Comfort and Sound pack, which brings a Beats audio system, adaptive cruise control, an electric tailgate and heated front seats on top of an already generous list of standard kit.
BMW 330e M Sport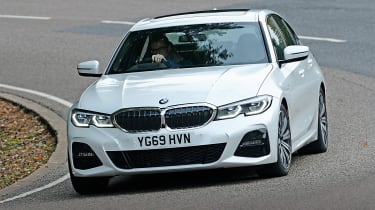 Price:

£40,700

Engine/power:

2.0-litre 4cyl petrol-electric/249bhp

CO2/BiK band:

37g/km/10%

0-62mph/top speed:

5.9 secs/142mph

Monthly BiK Bill

High rate:

£135

Monthly BiK Bill

Low rate:

£68
The plug-in hybrid version of BMW's 3 Series will give business users looking for a compact executive saloon on a budget something to seriously consider. That's because its BiK payments are in line with those of the cheapest city cars. It achieves that thanks to a 12kWh battery that's good for 37 miles of electric range. If you've got access to a home charger, it's a no-brainer.
The battery makes the 330e significantly heavier than the non-plug-in variants, but you'll barely notice this from behind the wheel, thanks to the additional torque from the electric motor. Low-resistance tyres mean there's a little less grip in corners, but you'll still be able to enjoy a fast, twisty road when the mood takes you thanks to the 3 Series' innate agility.
M Sport trim is the one to go for, with its 18-inch alloys, improved suspension, and heated front seats trimmed in leather. There's a 10.25-inch touchscreen with sat-nav too, and BMW's system is the best around.
Honda Civic Type R GT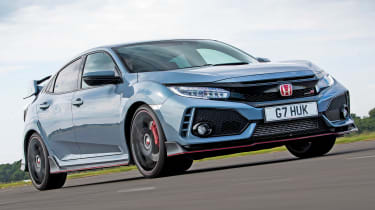 Price:

£34,320

Engine/power:

2.0-litre 4cyl/316bhp

CO2/BiK band:

192g/km/37%

0-62mph/top speed:

5.7 secs/169mph

Monthly BiK Bill

High rate:

£423

Monthly BiK Bill

Low rate:

£212
In an ever-changing segment, the Honda Civic Type R has been its ruler for years now. When you drive it, you discover why: performance is breathtaking, with savage acceleration and a vast amount of grip in corners thanks to its superbly focused chassis. The 316bhp 2.0-litre turbo engine is really gutsy too, and uses its forced induction to add character, rather than shying away from it. It's mated to one of the best six-speed manual gearboxes around, which is a joy to use, and it all adds up to make this one of the most thrilling cars on sale.
Given the model's striking looks, you'd be forgiven for imagining that the Type R is harsh and unforgiving, but it isn't. Take your foot off the gas and it morphs into an entirely usable runabout; thanks to its well set-up adaptive dampers, it has a supple ride that's only complemented by the thickly padded Recaro bucket seats. A family could genuinely use this every day.
Our preferred GT trim is a slightly more expensive option for buyers, but it's worth it for the extra safety kit, dual-zone climate control, sat-nav, 11-speaker stereo system and wireless phone charging.
Best company cars by price bracket