BMW fire risk recall: All UK 3 Series built between December 2004 and July 2011 affected
Second recall in as many weeks for BMW caused by potentially faulty wire between battery and heater fan. 88k cars affected.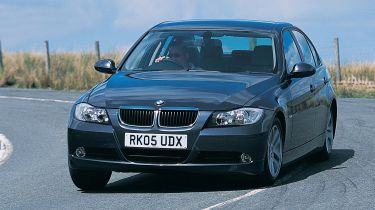 BMW is recalling all models of its 3 Series saloon – both petrol and diesel – built between December 2004 and July 2011.
The safety recall affects 294,000 cars in the UK, and is being enacted over fears a wiring harness connecting the heater fan poses a fire risk.
• Car recalls in the UK: everything you need to know
The company recalled 670,000 cars in America last year over fire risk fears associated with a cable connecting the heater fan and battery, but is said to have previously believed this fault only occurred in warmer climates.
This latest action follows a previous recall earlier this month, which saw 312,000 examples of the 1 Series, 3 Series, Z4 and X1 recalled over fears a connector between the battery and fuse box could wear prematurely, causing the cars to stall.
Some 206,000 examples of the 3 Series affected by the heater fan recall were included in the first, meaning BMW is recalling a further 88,000 cars.
A BMW spokesman told the Financial Times: "We are taking the opportunity of the existing recall to proactively check and replace the wiring harness of the blower regulator. In doing so we are taking every precaution in terms of safety while minimising disruption and inconvenience to affected customers.
"This affects BMW 3 Series models manufactured between December 2004 and July 2011. BMW has notified the DVSA this morning of its intention to recall and will begin the recall process immediately."
What do you think about this latest BMW recall? Let us know in the comments...