BMW 3 Series vs Mercedes C-Class vs Jaguar XE
The new BMW 3 Series is out to regain its number one spot in the company car park from the Mercedes C-Class and Jaguar XE
SUVs might have gained a foothold in company car parks, but business users still turn to compact executive saloons in their droves – and a mainstay of this sector has been BMW's 3 Series.
Over 43 years and six generations, it has pretty much set the class benchmark. And now there's a new generation.
• Best executive cars on sale right now
This is really big news because replacements for the 3 Series don't come around often, so the new car has the potential to seriously shake up the sector. Our current market leader is the Mercedes C-Class, which was revised last year to great effect. It offers more tech than ever, so the BMW faces a tough task.
When Jaguar launched the XE back in 2015, the contemporary 3 Series was its dynamic benchmark. The Jag served up great driving enjoyment, so the latest BMW will have to live up to it here.
But this all-new 3 also promises to offer more tech, a stronger driving experience, more practicality and even better ride and refinement. Let's find out if it has succeeded.
BMW 3 Series
| | |
| --- | --- |
| Model: | BMW 320d M Sport auto |
| Price: | £38,200 |
| Engine: | 2.0-litre 4cyl diesel, 187bhp |
| 0-60mph: | 6.6 seconds |
| Test economy: | 46.9mpg/10.3mpl |
| CO2: | 112g/km |
| Annual road tax: | £140 |
With this new seventh-generation G20 3 Series, BMW has gone back to the drawing board, fitting an all-new platform, new engine tech, improved chassis sophistication and even more infotainment innovations. Let's see how the car fares in £38,200 320d M Sport trim with the sport automatic gearbox.
Design & engineering
As with BMW's larger saloons and SUVs, this new 3 Series is now based on the CLAR architecture. As a result, there's a weight saving of up to 55kg and as much as a 50 per cent improvement in torsional rigidity.
The 3 Series uses a 2.0-litre four-cylinder diesel unit that delivers 187bhp and 400Nm of torque. The pair of turbos are designed so that the smaller first one kicks in lower down to help reduce lag and boost acceleration response, while the second larger unit takes over at higher revs once the engine is into its stride, to deliver strong power.
It's sent to the rear wheels here (four-wheel drive is available, as with its rivals) through BMW's eight-speed sport automatic transmission.
Although the new 3 Series is now based on BMW's CLAR platform, unlike the larger 5 Series and 7 Series saloons, it doesn't use double-wishbone suspension. Instead, there are cheaper (but no less effective) MacPherson struts at the front and a multi-link rear end set-up.
A new development for this car is its lift-dependent suspension damper technology. This reacts to the weight on board, so when the 3 Series is full of people and luggage (and therefore the suspension is more compressed), the damping is tauter, while when the car just has the driver on board the damping is softer. Adaptive dampers are available as an option.
There have been as many advances inside as there have been under the skin as well. The cabin redesign is extensive and the layout now feels much more modern. It's also packed with lots of advanced tech, while quality has taken a step up, too. In fact, it feels like a scaled-down 5 Series.
Nav and a digital dash are standard, as are Apple CarPlay, parking sensors, a reversing camera, LED lights, heated leather seats, autonomous braking, M Sport suspension and body kit, plus climate control.
Driving
Our three test cars are relatively evenly matched for performance – don't let the Jaguar's slightly tardy 0-60mph time of 8.2 seconds fool you (due to some slippery conditions and a quirk of the gearbox). The 3 Series hit this benchmark in 6.6 seconds, 0.1 seconds slower than the C-Class.
The in-gear figures are more instructive; here the BMW bettered the Mercedes in almost every test. It was faster than the XE in some, but not others; however, the margin is narrow enough between our three cars that it will be difficult to feel the difference on the road.
Response and refinement are therefore likely to be more important. And here the 3 Series is good. That turbo set-up means it's rare you're caught off boost and, for a diesel, there's enough urgency in response to your throttle input. The gearbox helps because it kicks down smoothly in auto mode without much hesitation or jerkiness. Refinement is much better, too. There's still a diesel rumble under power, but it's quieter and less intrusive now; it's more hushed than its rivals' rattly units, and at a cruise the BMW is quiet and comfy.
Those new dampers are responsible for the latter. The set-up is still firm and we'd like maybe a little more compliance on lumpy B-roads, but the 3 Series still edges its rivals for composure. The damping feels plush and smooth, controlling the saloon's body well, but allowing for enough movement to soak up the surface in the most part.
This also gives the 3 Series its now-trademark agility. BMW has done it again with this new model; it's the best driver's car in its class. The steering is still squishy and lifeless, but the chassis delivers a brilliant balance of dynamism and enjoyment without hurting comfort too much.
Practicality
A 41mm longer wheelbase and a 21mm wider rear track mean there's now more legroom and width across the cabin, so adults will be more comfortable in the back than before. Legroom is a little better than in the Mercedes and eclipses the cramped-feeling Jag.
The BMW betters it for boot space, too, with 480 litres. Both the C-Class and XE only offer 455 litres.
The redesigned cabin also provides good storage, with a lidded cubby in front of the gearlever that hides the cup-holders and wireless charging plate, a bin between the seats and roomy door pockets.
Ownership
BMW was 21st in our Driver Power 2018 satisfaction survey maker's chart, one place behind Mercedes and 11 places adrift of Jaguar. But the 3 Series' safety tech is much better.
While Euro NCAP has yet to test the car, we would expect a good result, with autonomous braking, collision and lane departure warning all standard.
Running costs
Most cars in this class are run by business users, and it's here where the 320d makes most sense. It splits the Mercedes and Jaguar on price, but with emissions of just 112g/km, it sits in the 27 per cent Benefit-in-Kind tax band – one group below the 117g/km C-Class and six percentage points ahead of the XE.
This means higher-rate earners will have to pay £4,098 in tax per year to run the 3 Series, compared with £4,256 for the C-Class and £4,784 for the XE.
Testers' notes: "BMW is offering xDrive all-wheel drive on the 320d from launch, hiking the price by £1,500. Four-wheel drive on the Mercedes and Jaguar add £1,910 and £1,800 respectively."
Mercedes C-Class
| | |
| --- | --- |
| Model: | Mercedes C 220 d AMG Line |
| Price: | £39,160 |
| Engine: | 2.0-litre 4cyl diesel, 191bhp |
| 0-60mph: | 6.5 seconds |
| Test economy: | 46.1mpg/10.1mpl |
| CO2: | 117g/km |
| Annual road tax: | £140 |
In facelifted form, the Mercedes C-Class won its first group test against the Jaguar XE and Alfa Romeo Giulia, heading to the top of its sector in 2018. Here we're testing a C 220 d in AMG Line trim to match the BMW's M Sport specification. But can the car retain its compact exec crown against the all-new 3 Series?
Design & engineering
Although the C-Class was updated last year, it's still based on Mercedes' Modular Rear Architecture (MRA), in contrast to the BMW, which is an all-new model.
However, a new 191bhp 2.0-litre diesel engine was fitted to the latest C 220 d, replacing the old 2.1-litre diesel. It matches the BMW for torque, at 400Nm, with both trailing the Jag's 430Nm, but the Mercedes does have the most power of the trio.
It also uses a long-geared nine-speed automatic transmission to help improve efficiency, and like both rivals, it's rear-wheel drive, with 4x4 versions available at extra cost. Diesel is still likely to be the best choice for most buyers of these cars, but petrol versions are available as well.
One of the most noticeable changes for this latest version of the C-Class was the addition of a 10.25-inch hi-res infotainment system. Sat-nav is standard, along with DAB radio, heated seats, cruise control, parking sensors and a reversing camera, plus climate control and autonomous braking.
AMG Line also offers 18-inch alloy wheels, sporty body styling, 15mm lower suspension and Artico artificial leather sports seats. Air suspension is available as part of the Airmatic Dynamic Handling Package (£895), which allows the driver to soften or stiffen the set-up as required.
The C-Class's interior is better built and has a cleaner design than the Jaguar's, but it can't match the quality or construction of the latest BMW's cabin. The 3 Series is more modern inside and its driving position is the best here.
Driving
In this company, the Mercedes offers a more relaxed option. The BMW and Jaguar are aimed at drivers looking for something with a sporty side, but while the C-Class is good to drive, it's more focused on keeping things comfortable.
Its suspension set-up is tuned so that the saloon cruises smoothly over softer bumps, although it does sometimes drop into harsher potholes with a thud.
There's more body roll in the Mercedes than in either rival as a result, and ultimately the BMW provides the best balance of ride and handling here, because it offers even more comfort than the C-Class, yet it's much more fun to drive. The Mercedes has numb steering that's not helped by the artificial weight added in Sport and Sport+ modes, and the driving position is higher than in the 3 Series or XE.
Still, the 191bhp 2.0-litre unit does have an edge when it comes to full-throttle performance, because the C-Class sprinted from 0-60mph in 6.5 seconds, 0.1 seconds faster than the BMW and 1.7 seconds quicker than the Jag. But long gear ratios and a higher kerbweight than both competitors set the Mercedes back in our in-gear tests. It fell behind both rivals from 30-50mph in fourth, and from 50-70mph in every higher gear. The only area it matched the BMW was from 30-50mph in third; both took 2.7 seconds, and the XE 2.9 seconds.
Although the nine-speed gearbox is smooth and fast enough to change, the BMW's eight-speed transmission is a little swifter. The long ratios mean low cruising revs, but while the new 2.0-litre engine is quieter than the previous model's 2.1-litre unit, it still can't match the 320d for refinement.
Practicality
The C-Class has a 455-litre boot, the same as the Jaguar's, with both falling behind the BMW's 480-litre load volume.
Inside, there's a large storage compartment with cup-holders near the climate controls, and the central bin between the front seats is spacious as well. The USB ports are located in here. The cabin also feels more spacious than its rivals'.
There's plenty of head and legroom in the rear, too, so passengers will be able to get comfortable here, although it's still no better than the BMW.
A powered tailgate is available, but only as part of the £4,995 Premium Plus pack, which also adds a 12.3-inch digital dash, wireless charging, a Burmester stereo and a panoramic roof.
Ownership
Owners expect a premium manufacturer such as Mercedes to go the extra mile, but with a 20th place finish in our Driver Power 2018 owner satisfaction survey, the German brand has some work to do here.
Still, safety is a strong point for the C-Class, with autonomous braking and a parking camera as standard. Euro NCAP awarded it the maximum five stars when the car was tested in 2014. You can add the £1,695 Driving Assistance package on AMG Line models; this includes active blind spot warning and lane-keep assist, too.
Running costs
All three of these premium models are set to hold their value fairly well. Our experts predict that the C-Class will retain 42.1 per cent of its original price after three years or 36,000 miles, losing £22,662 in that time.
That places it in between its rivals when it comes to depreciation, because the BMW is expected to hold on to slightly more, at 43.3 per cent, while the XE is estimated to retain 41.7 per cent. It means those models will lose £21,675 and £21,467 respectively over the same period and mileage.
Testers' notes: "While there's new tech available inside, such as the upgraded infotainment and digital dash, the C-Class's basic cabin design from 2014 is starting to look a little dated compared with the 3 Series."
Jaguar XE
| | |
| --- | --- |
| Model: | Jaguar XE 20d R-Sport auto |
| Price: | £36,815 |
| Engine: | 2.0-litre 4cyl diesel, 178bhp |
| 0-60mph: | 8.2 seconds |
| Test economy: | 45.3mpg/10.0mpl |
| CO2: | 141g/km |
| Annual road tax: | £140 |
The Jaguar XE shot to the top of its class when it arrived in 2015, and it stayed there until last year, when Mercedes' updated C-Class took its crown. Our images show a Portfolio-spec car, but how does the XE 20d R-Sport fare against the new BMW 3 Series?
Design & engineering
In 2018 Jaguar introduced a number of small updates to the XE range, and while it wasn't a full-blown facelift, the new model features the company's latest 10-inch InControl infotainment system and extra safety technology.
It retained the 2.0-litre Ingenium diesel engine, which produces 430Nm of torque – 30Nm up on its rivals – although it does have the least power of the three cars, at 178bhp. As with the BMW, it uses an eight-speed automatic box, and it's rear-wheel drive.
Under the skin is Jaguar's modular aluminium platform, which uses the lightweight metal in core parts of the architecture to help reduce weight and improve economy, performance and handling.
Aiding the latter is the XE's double-wishbone front and multi-link rear suspension set-up, which has been tuned to deliver the dynamic balance for which Jaguars are famous. The throttle response, gearshift mapping and steering weight can be adjusted using a range of selectable driving modes, as in its competitors here.
The cabin is the car's weak point, because it is now showing its age – but the XE never had the most interesting layout, even when new. It's more cramped than the opposition and although the driver-focused set-up will appeal to some buyers, the build quality isn't on the same level as the German models'.
R-Sport matches M Sport and AMG Line with an exterior body kit and features 18-inch alloys, parking sensors, cruise and climate control, sat-nav, DAB radio and connected services as standard.
You also get heated leather seats, a WiFi hotspot, connected apps and safety tech including auto emergency braking and lane departure warning.
Driving
While the BMW 3 Series sets a new benchmark in the class for its mix of enjoyable handling with a smooth ride, the XE can still hold its own here. It's not quite as forgiving as the Mercedes, but many buyers will be able to see beyond that because the Jag is more fun to drive and far from uncomfortable.
The steering is weighty and precise. The speed means it changes direction well, helped by the support from the chassis. There's plenty of grip, too, while the suspension is tuned sweetly and allows enough compliance to soak up mid-corner bumps and retain composure.
That means it's good to drive on a bumpy country road, as well as being smooth on the motorway and faster, more flowing A-roads.
But next to these two rivals, apart from the slower 0-60mph time due to a quirk of the gearbox in bottom gear (it shifts up earlier), the lower-powered Jaguar was strong. Although it was slower from 30-70mph through the ratios, it was quicker than both rivals from 50-70mph in sixth, seventh and eighth gears, thanks partly to its extra torque delivered low in the rev range. So when you're pushing hard and making the most of the engine's performance, the Jaguar falls behind, but if you prefer to use the torque of the diesel and keep revs low, there's little difference between them.
Unfortunately the Ingenium engine is not as refined as its rivals', and its rattly note is more present in the cabin at idle and while cruising.
Practicality
The Jaguar's more cramped interior compared with its rivals' stems from its less functional design in the front, and the XE isn't quite as spacious for rear-seat passengers as its opponents, either. Leg and headroom is more cramped, but this is relative to its competitors so there's still an adequate level of space.
At 455 litres, the XE's boot matches the C-Class's for space, but falls behind the new 3 Series'. However, have a look at all three load areas next to one another and you'll find only a small difference; every model has plenty of room for a few suitcases. A power convenience pack is available for £1,125 that adds a gesture-controlled bootlid and keyless entry.
The Jag's driving position is good, but not quite as comfy as the BMW's, while in-cabin storage is decent.
Ownership
Jaguar ranked in 10th position in our Driver Power 2018 satisfaction survey, higher than Mercedes and BMW. However, both the previous 3 Series and the C-Class finished in our rundown of the top 75 models to live with. The XE didn't score highly enough to make an appearance in that list.
At least the Jag gets autonomous braking, lane departure warning, traffic sign recognition and six airbags fitted as standard. The £2,425 Active Safety Pack adds blind spot monitoring and cross- traffic alert, lane-keep assist and adaptive cruise control to that list of safety kit. The XE scored five stars when it was tested by Euro NCAP in 2015.
Running costs
When it came to fuel economy on test, the XE fell slightly behind its rivals, returning a still-impressive 45.3mpg. That works out at an annual fuel cost of £1,566 a year if you cover 12,000 miles, which is slightly more than the 3 Series or the C-Class's figures.
The BMW returned the best economy on test, at 46.9mpg, while the Mercedes managed 46.1mpg. Those numbers work out at annual fuel costs of £1,512 and £1,538 respectively.
Verdict
First place: BMW 3 Series
The 3 Series is king of the compact executive class. It sets a new benchmark for handling, but balances this with comfort and refinement. It'll also be cheaper to run, boasts more practicality and an updated interior and infotainment that cement its first place finish. In almost every area the BMW betters its rivals, with advanced tech keeping up with buyers' demands in this market.
Second place: Mercedes C-Class
The C-Class drops to second place. It's still a solid all-rounder with a strong interior, plenty of updated technology, decent performance and good fuel economy – but it drops behind the BMW when it comes to ride, refinement and agility. The Mercedes is still comfortable enough and well equipped, but it's also pricier, not as good to drive and not as advanced as the latest 3 Series.
Third place: Jaguar XE
Third place here is more a reflection of how long the XE has been around for without a major update. It's still good fun and rewarding to drive, rides relatively well and is affordable, but it'll cost more to run due to high CO2. The real downside is the cramped cabin and severely flawed infotainment in this company, though. The XE isn't as well equipped as its two rivals, either.
Other options for similar money...
New: Alfa Romeo Giulia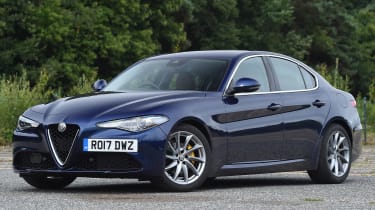 Model: Alfa Romeo Giulia 2.2 JTDM SpecialePrice: £37,390Engine: 2.2-litre 4cyl, 187bhp
Keen drivers will appreciate the Alfa Giulia's fine handling. Its interior and infotainment are leagues behind the BMW's, while the 2.2-litre turbodiesel is as noisy as the Jag's 2.0 litre when revved. Still, the quick steering and chassis make this a sweet package.
Used: BMW 5 Series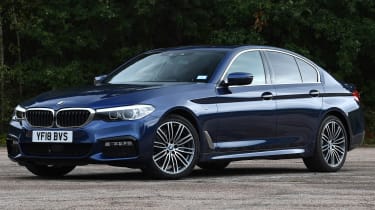 Model: BMW 530d M SportPrice: £35,000Engine: 3.0-litre 6cyl, 261bhp
For this budget you should also consider a used 5 Series. You could get a larger saloon with a punchy straight-six diesel at this price. The 5 Series rides more smoothly than the 3 Series, even if it's not quite as agile, due to its larger footprint.
Figures
| | | | |
| --- | --- | --- | --- |
| | BMW 320d M Sport auto | Mercedes C 220 d AMG Line | Jaguar XE 20d R-Sport auto |
| On the road price/total as tested | £38,200/£46,495 | £39,160/£43,660 | £36,815/£36,815 |
| Residual value (after 3yrs/36,000) | £16,525/43.3% | £16,498/42.1% | £15,348/41.7% |
| Depreciation | £21,675 | £22,662 | £21,467 |
| Annual tax liability std/higher rate | £2,049/£4,097 | £2,128/£4,256 | £2,392/£4,784 |
| Annual fuel cost (12k/20k miles) | £1,512/£2,520 | £1,538/£2,564 | £1,566/£2,609 |
| Insurance group/quote/VED | 36/£639/£140 | 27/£730/£140 | 27/£598/£140 |
| Cost of servicing | £399 (3yrs) | £32 per month (3yrs) | £599 (2yrs) |
| | | | |
| Length/wheelbase | 4,709/2,851mm | 4,686/2,840mm | 4,672/2,835mm |
| Height/width | 1,442/1,827mm | 1,442/1,810mm | 1,425/1,967mm |
| Engine | 4cyl in-line/1,995cc | 4cyl in-line/1,950cc | 4cyl in-line/1,999cc |
| Peak power/revs | 187/4,000 bhp/rpm | 191/3,800 bhp/rpm | 178/4,000 bhp/rpm |
| Peak torque/revs | 400/1,750 Nm/rpm | 400/1,600 Nm/rpm | 430/1,750 Nm/rpm |
| Transmission | 8-speed auto/rwd | 9-speed auto/rwd | 8-spd auto/rwd |
| Fuel tank capacity/spare wheel | 40 litres/run-flats | 66 litres/repair kit | 56 litres/repair kit |
| Boot capacity | 480 litres | 455 litres | 455 litres |
| Kerbweight/payload/towing weight | 1,450/610/1,600kg | 1,585/580/1,800kg | 1,640/550/1,800kg |
| Turning circle | 11.4 metres | 11.2 metres | 11.6 metres |
| Basic warranty (miles)/recovery | 3yrs (60,000)/3yrs | 3yrs (60,000)/3yrs | 3yrs (unlimited)/3yrs |
| Driver Power manufacturer/dealer pos. | 21st/19th | 20th/13th | 10th/16th |
| NCAP: Adult/child/ped./assist/stars | N/A | 92/84/77/70/5 (2014) | 92/82/81/82/5 (2015) |
| | | | |
| 0-60/30-70mph | 6.6/6.2 secs | 6.5/6.0 secs | 8.2/8.0 secs |
| 30-50mph in 3rd/4th | 2.7/3.0 secs | 2.7/3.5 secs | 2.9/3.3 secs |
| 50-70mph in 5th/6th/7th/8th | 4.3/5.9/7.4/13.4 secs | 5.0/6.0/7.7 secs/N/A | 4.5/5.5/7.1/11.3 secs |
| Top speed/rpm at 70mph | 149mph/1,600rpm | 149mph/1,600rpm | 140mph/1,700rpm |
| Braking 70-0/60-0/30-0mph | 44.5/32.2/9.6m | 52.3/40.7/10.3 | 48.0/34.4/9.0m |
| Noise outside/idle/30/70mph | 70/44/60/70dB | 70/46/63/72dB | 76/47/59/68dB |
| Auto Express econ. (mpg/mpl)/range | 46.9/10.3/413 miles | 46.1/10.1/669 miles | 45.3/10.0/558 miles |
| Govt urban/extra-urban/combined | 51.4/72.4/62.8mpg | 53.3/72.4/64.2mpg | 55.4/76.4/53.3mpg |
| Govt urban/extra-urban/combined | 11.3/15.9/13.8mpl | 11.7/15.9/14.1mpl | 12.2/16.8/11.7mpl |
| Actual/claimed CO2/tax bracket | 161/112g/km/27% | 164/117g/km/28% | 167/141g/km/33% |
| | | | |
| Airbags/Isofix/park sensors/camera | Eight/yes/yes/yes | Seven/yes/yes/yes | Six/yes/yes/£560* |
| Auto box/lane keep/blind spot/AEB | Y/£1,250*/£1,250*/y | Y/£1,695*/£1,695*/y | Yes/£480*/£580*/y |
| Clim/cruise ctrl/leather/heated seats | Yes/yes/yes/yes | Yes/yes/Artico/yes | Yes/yes/yes/yes |
| Met paint/LEDs/keyless/pwr tailgate | £670/y/£990*/£990* | £685/y/£4,995*/£4,995* | £650/no/£530/£450 |
| Nav/dig dash/DAB/connected services | Yes/yes/yes/yes | Yes/£520/yes/yes | Yes/£510/yes/yes |
| Wireless charge/CarPlay/Android Auto | £350/yes/yes | £2,275*/£295/£295 | No/no/no |