BMW aiming to sell 100k electric cars in 2017
BMW has set ambitious targets for EV sales in 2017 but says growing demand makes them achievable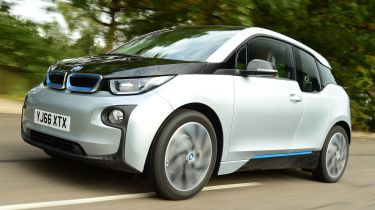 BMW says increasing emissions regulations in cities and a wider range of products will help it to match its first three years of electrified car sales in 2017 alone.
The German brand was one of the first to commit to bespoke electric vehicles with its Project i, which launched three years ago with the i3 and has since added the i8. It has also expanded to include iPerformance plug-in hybrid editions of the 3 Series and 2 Series Active Tourer.
• Best electric cars to buy now
In total, i and iPerformance products have sold 100,000 examples over the past three years. Now BMW's board member for sales and marketing, Ian Robertson, has revealed that the goal for 2017 is to match that total in just 12 months. "The pace of sales growth is accelerating to the point where we can aim for this," he said. "This is proving how a lot of the technology from i is moving into the mainstream; iPerformance does that for us. I believe we will have the most comprehensive set of plug-in hybrid and electric vehicles of any company in the world."
Helping the BMW push towards more electrified sales will be a plug-in hybrid version of the forthcoming MINI Countryman and the 530e hybrid. Indeed, the powertrain that features in the MINI is the same basic unit as seen in the 2 Series Active Tourer - and it's likely that this will be rolled out further across BMW's line-up, including on the X2 small crossover.
"We will continue to work on combustion engines," said Robertson, "and mix them with iPerformance technology where suitable, creating new benchmarks in economy and CO2 emissions."
Robertson also said he does not believe that incoming US President Donald Trump's views on climate change and hybrid vehicle incentives would have a long-term impact on the growth of the sector. "Some suspect that the US is changing its direction but I doubt it, in the medium to long term," he said.
The improved range of the battery on the recently updated i3 is also said to have improved its contribution to BMW's electric sales push - along with some key taxation changes in selected markets. Indeed, the i3 was the best-selling car outright in November in Norway, helped by a string of benefits awarded to pure-electric and hybrid vehicles. Further down the line, BMW has already committed to fully electric versions of the next X3 and an all-electric MINI by 2020.
Do you think BMW will hit its electric car sales targets? Let us know in the comments...