The BIG car news highlights of 2017
We explore the car news stories that rocked the automotive world in 2017
Hybrid coupe is first model from 'new' brand Polestar
With the launch of the Polestar 1, what was once the tuning division of Volvo became a manufacturer in its own right, having been split off by Chinese owner Geely. And, while Polestar's first model, a coupe, draws some inspiration from current Volvos, it certainly looks good enough to sell in big numbers. Power comes from a petrol-electric hybrid system with a total of 592bhp, plus an amazing 1,000Nm of torque, but no performance figures have been quoted.
Sales are the last thing on the company's mind, though, because it will be offering the Polestar 1 through a subscription ownership system, similar to the one planned by Volvo for its XC40. 
X2 out in the open 
After many months of concepts and official, disguised photos, BMW finally pulled the wraps off the X2 in October. As its name suggests, this sporty crossover slots into the firm's range between the X1 and X3, and it's based on the platform of the former.
Where it differs is that it has a more rakish body that incorporates smaller windows, while some of the space inside is sacrificed to deliver those sportier looks outside.
Front-wheel drive is standard on most models, with xDrive 4WD reserved for the top-spec cars, while none of the engines has more than four cylinders. The line-up includes M Sport trim, although this can be upgraded to M Sport X, which adds black plastic cladding and other chunky off-roader touches.
Dash cams to upload crash footage
Dash cams may be able to upload footage to the emergency services automatically straight after an accident soon, giving first-responders information to help save lives.
We revealed that new cameras from Thinkware will offer a cloud upload service next year; and the maker expects that future dash cams will be able to connect automatically to 999 call centres, should the built-in G-sensors detect an impact.
Kadjar named Used Car of the Year 
Our Used Car Awards again celebrated the best second-hand buys, and this year, Renault's Kadjar SUV came out on top.
The car is based on Nissan's incredibly successful Qashqai and offers a terrific mix of practicality, low running costs and value for money. The 2016 example we picked also still had a few years of Renault's 4+ new-car warranty and roadside assistance, so you can buy with peace of mind.
Mazda's Tokyo twins smooth the way for a new look 
Mazda revealed not one, but two concepts at the Tokyo Motor Show. First was the KAI, a five-door hatchback which the company says previews styling techniques that could be used on the next-generation 3. Talking about the KAI to Auto Express, Mazda's European design director, Kevin Rice, said: "It's actually a little bit shorter than the current 3, but because it's sitting so much lower and it's wider, it looks longer. Obviously, if it were to go into production, its stance would need to change, but we're pleased with how it shows surface texture without any creases."
The same theme is evident in the Vision Coupe concept. Unlike the KAI, this sleek four-door coupé is a pure study, showcasing the next phase of Mazda's Kodo 'less is more' design language. Both concepts feature pared-back cabins, with a simple three-dial instrument binnacle and a slim infotainment display tucked into a fold in the dash.
And EVs are all the rage on Japan's show stands
Elsewhere at the Tokyo Show, electric cars were the stars on several makers' stands. Honda proved that the warm reception to its Urban EV Concept (unveiled at Frankfurt in September) wasn't a fluke by taking the wraps off the equally appealing Sports EV concept.
This fully electric two-seat sports car sits on the same platform as the Urban EV and has a similar retro design, with round headlights and square tail-lamps. However, Honda was tight-lipped about any technical details.
Meanwhile, Mitsubishi revived the Evo name for the brand's centenary. Rather than a rally-inspired saloon, however, the e-Evolution is a coupe-style SUV with three electric motors and the latest electronic driver aids.
Not to be outdone, Nissan used Tokyo to show what a fully electric SUV based on the Leaf could look like. The resulting IMx is more performance-orientated than the Leaf, with a battery and two electric motors said to generate a total of 429bhp and a range of up to 373 miles. 
Dyson to build an electric car 
Vacuum cleaner maker Dyson announced in October that it is to build an electric car. In a letter to employees, company founder Sir James Dyson revealed he is investing £2billion in the project, half of which will go on the car and half on developing the brand's own solid-state batteries.
Rather than team up with an existing car maker, Dyson told Auto Express his company will "go it alone". The next step is relocating 400 project members to a new base at Hullavington Airfield in Wiltshire early next year. 
Audi reveals its hi-tech new A7 
Audi gave us our first glimpse of its new Porsche Panamera rival, the A7 Sportback, in October. The four-door coupe borrows a lot of its technology from the flagship A8, including its 48V mild hybrid powertrains and autonomous driving systems.
Big changes have also been made inside, with two digital displays replacing all of the car's dials and switches to create a really clean and stylish cabin. 
October 2017 in numbers
• 1,792 – UK road deaths: Number of fatalities on British roads in 2016. This represented a five-year high, with official figures showing a four per cent rise on 2015.
• 1 in 8 – EV chargers broken: Up to 12 per cent of EV chargers are broken at any one time, causing problems for an increasing number of owners, says the RAC.
• £9 billion – Traffic jam bill: Lost UK productivity attributable to traffic jams on UK motorways and A-roads, with 1.35 million separate jams recorded in 12 months. 
November 2017 car news
Tesla shocks world with its 250mph Roadster
Tesla grabbed the headlines again in November, as the company caught the automotive world off guard by rolling out an all-new version of its Roadster.
The new model was unveiled at an event originally scheduled to be the debut of Tesla's new electric truck, the Semi. At the same time, Elon Musk, Tesla CEO, also promised that the new Roadster would be the fastest-accelerating car in the world when production versions start to roll out of the factory in 2020.
It's powered by a 200kWh battery (twice the size of that in Tesla's most powerful current car, the Model S P100D), which is claimed to deliver a 620-mile range and a 0-60mph time of 1.9 seconds. This would make the car the first production model ever to break the two-second mark, if Tesla can deliver on its promise.
Musk said that the new Roadster had been produced to "give a hardcore smack down to gasoline cars", and that the top speed would be in excess of 250mph.
Although the newcomer is still a few years away from reaching customers, Tesla has already begun to take $50,000 deposits for the $200,000 (around £150,000) Roadster. However, don't expect to see it here in the UK until after 2020. 
Was diesel policy illegal? 
An exclusive Auto Express investigation revealed the Government may have acted "unlawfully" in its encouragement and subsequent penalisation of diesel cars.
Damon Parker, from law firm Harcus Sinclair, said there is evidence that previous Governments encouraged drivers into diesels "on a knowingly false basis" and "despite ministers knowing air quality could decline if diesel sales rose". The result is that the Government could be open to a major legal challenge.
It's said that they ignored the dangers posed by particulates and instead focused on cutting carbon dioxide emissions by offering tax incentives for diesel. This in turn led to a surge in the number of diesel cars in the UK, but Parker said that buyers were fooled into buying cars they thought were clean and environmentally friendly.
Agera RS sets new top speed record
It's no secret that many manufacturers are chasing the 300mph mark, and Swedish car maker Koenigsegg came the closest so far to hitting that speed in November.
An upgraded Agera RS, with a 1,380bhp 5.0-litre turbo V8, set a new top speed record of 277.9mph on a closed stretch of public road in Nevada, US. The record is 12mph faster than the previous mark, held by Bugatti's Veyron Super Sport.
Showstoppers steal limelight in LA
Infiniti revealed its new QX50 at this year's Los Angeles Motor Show. Designed to take on rivals such as the BMW X3 and Mercedes GLC, the QX50 has some radical engine tech. With its variable compression ratio engine, it's claimed to deliver the economy of a diesel without the associated pollution. However, the new car won't arrive in the UK until late 2018.
Aston's new Bond-inspired Vantage cuts loose
2017 was one of the most successful years in Aston Martin's history and the company rounded off the year in fine style by unveiling its all-new Vantage in November.
The Porsche 911 rival has been completely overhauled inside and out. Aston tasked its designers with making every new model look different from one another, and they have certainly succeeded with the Vantage.
It's based on the company's new aluminium architecture, which it shares with the DB11. Power comes from a new 503bhp 4.0-litre twin-turbo V8 engine, which is only available with an eight-speed automatic gearbox; there are no manuals yet.
Aston claims the car can cover the 0-62mph sprint in 3.6 seconds and hit 195mph flat out. This performance doesn't come cheap, however, as the new Vantage is priced from £120,900. 
Brakes and tyres to be regulated? 
Exclusive research revealed car makers could soon face regulations governing the types of tyres and brakes they fit.
The news came as Transport for London highlighted the danger from tiny particles, which are released by tyres and brakes as they wear. Campaign group Transport & Environment told us that, as authorities crack down on engine emissions, "other sources will become more important". 
Covers are off rugged new Wrangler 
SUVS were big business during 2017, but none was more rugged than the new Jeep Wrangler. The fourth-generation model was revealed ahead of its debut at the LA Auto Show; and, for the first time, it's available with a four-cylinder engine. Buyers can choose a new eight-speed automatic gearbox, plus a plug-in hybrid model is on the way. 
November 217 in numbers
• £500 – Extra tax: How much more road tax buyers of new diesel cars could pay for the first-year VED rate thanks to rules set out in the Autumn Budget.
• 3 – Autonomous grades: Basic, Advanced and Superior safety ratings for self-driving assistance systems to be introduced by Euro NCAP in 2018. 
• 27,614 – Mobile phone fines: The number of fines since March for motorists using their mobile when driving, despite tough penalties introduced in the same month, our report revealed. 
Click the links below to jump to a specific month in our review of 2017's big car stories...
January - February - March - April - May - June - July - August - September - October - November
We hope you had a great 2017 and all the remains is to wish you another great year of great cars in 2018. Follow us on Twitter, Facebook and Instagram to get all the biggest, best car news and content first…
Review of the year 2017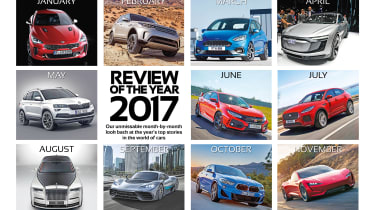 • Review of the year 2017: index• Best new cars 2017: the road tests of the year• The BIG car news highlights of 2017 • Big car quiz of the year 2017• Head to head: best car group tests of 2017• The long haul: Our greatest long-term test fleet cars of 2017• Inside the world of cars: the best motoring features of 2017• Best car videos 2017• Amazing moments: our year in cars 2017• Motorsport review of the year: from F1 to WRC and BTCC