Inside the world of cars: the best motoring features of 2017
2017 has been a whirlwind of a year, so let's look back at the best Auto Express features over the past year
Throughout the year, our team of experts travel to the far flung corners of the world to bring you the motoring stories behind the headlines. Whether it's in-depth analysis of a big issue of the day, insight into a next generation technology breakthrough or a look back into the glorious history of the motor car, our features set out to inform and entertain in equal measure.
From naming the best British cars and celebrating 20 years of Euro NCAP tests, to examining flying cars and futuristic roads which can charge EVs, there is no doubt 2017 has introduced some incredible feature content.
Read on for a whistle stop tour of Auto Express' best features of 2017, and should you wish to learn more, click the links to go and read each article in full...
Autonomous tech stars in Vegas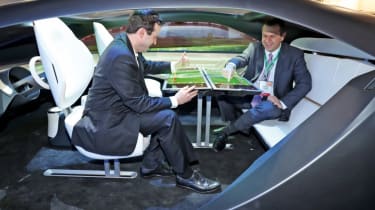 Autonomous car tech was big news at the Consumer Electronics Show in Las Vegas in January, with Panasonic leading the way. The brand displayed a striking cabin concept that gave a glimpse at the future of self-driving cars.
Panasonic's concept boasted augmented-reality windows that could overlay data on to passing landmarks, but its standout feature was a pair of 4K interactive tables. Joined together, these created a vast digital board game, which execs demonstrated on the stand.
New breed of cars in Cuba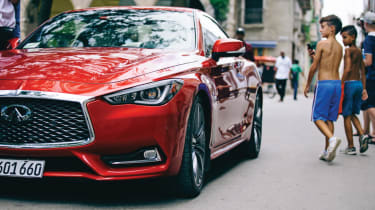 In Issue 1,455, we assessed Cuba's unique 'hybrid' car culture. With the 1958 US trade embargo now relaxing, its time-capsule cars are changing.
Classic Fords and Chevrolets still make up a significant proportion of traffic and are maintained with a 'make do and mend' mentality, but loosening local laws are starting to bring a new breed of cars. Peugeot and Citroen have set up shop there, while an Infiniti Q60 became the first US-built car to be registered in Cuba in over half a century.
We visit Audi factory of future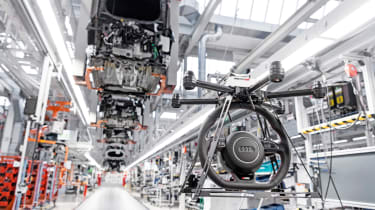 Audi's vision of the future doesn't only involve self-driving cars – it's also investing heavily in autonomous factories, as our visit to its Ingolstadt plant in Germany revealed.
With self-driving forklift trucks, modular assembly lines transporting bodyshells and an autonomous robot named Paula, the Audi site is at the forefront of digital manufacturing – a process hailed by some as the "fourth industrial revolution".
How easy is it to drive for Uber?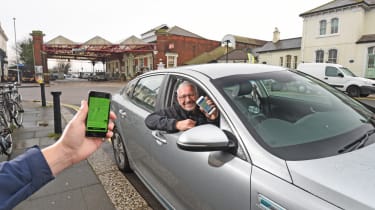 Ride sharing service Uber has soared in popularity in recent years, offering people the chance to make some extra cash. To see how easy it is to become a driver, we went through training, security checks and a medical, collected our private hire licence and logged on to the Uber Partner app.
After working 46 hours, ferrying 101 passengers and covering 329 miles, we made £858.55 before fuel and other costs.
20 years of Euro NCAP crash tests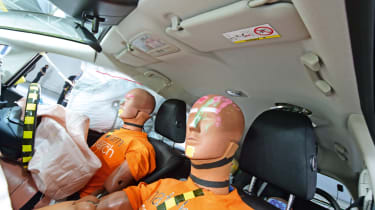 Celebrating car crashes might seem like a curious thing to do, but the 629 models deliberately sent to the wall by Euro NCAP since it was founded in 1997 brought us to Thatcham Research's labs in Berkshire.
Here, we learned how, over the past two decades, Thatcham – together with other testers across the continent – has helped to develop safer cars and prevent an estimated 182,000 deaths on the roads thanks to its crash research and assessments.
To show just how far modern safety technology has come since 1997, Thatcham crash tested a 1997 Rover 100 and a modern Honda Jazz, with the occupants of the Honda in much safer hands than those in the 20-year-old Rover.
We also discovered that the cost of the latest crash-test dummy runs to a cool £500,000, and that autonomous emergency braking (AEB) is predicted to save 54,000 lives over the next two decades.
Used deals with Half-price Heroes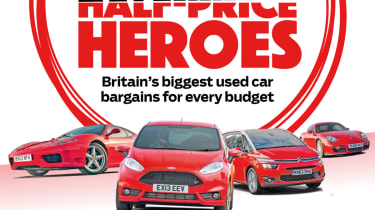 Buyers often hold off for a new car in the build-up to a registration change, but ahead of March's 17-plate our cut-price alternatives saved Auto Express readers cold, hard cash.
We scoured the classifieds to bring you 102 half-price heroes – used cars that can be picked up for 50 per cent of their new value or less. We covered everything from city cars to SUVs, and spanned the length and breadth ofthe market, with 11 price points starting from £1,000.
As well as selecting the best second-hand motors for every budget, we added a bargain left-field alternative, or Joker, in each price bracket, plus named the cars to avoid.
On limit in Arctic 4WD test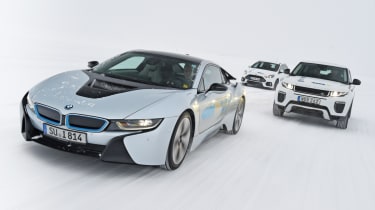 Everyone from Fiat to Land Rover trials their cars on the -40 degrees Celsius Colmis Proving Ground in Arjeplog, Sweden – 60 miles south of the Arctic Circle. Auto Express joined GKN Driveline for a few days of winter testing.
We found out GKN's Twinster 4WD is fitted to both the Ford Focus RS and Range Rover Evoque. We also tried a BMW i8 that features GKN's two-speed eAxle electric drive system.
Mini stars in Best of Brits
Our Best of British feature celebrated the 50 best British-built cars of all-time. Taking in everything from the Rolls-Royce Dawn to the Triumph Stag, we highlighted the unique and varied role the UK occupies in the automotive industry.
The Land Rover Defender took third place with the Jaguar E-Type scooping silver – but the iconic Mini of 1959 was the winner thanks to the huge success and innovation it represented at the time.
A decade of the Qashqai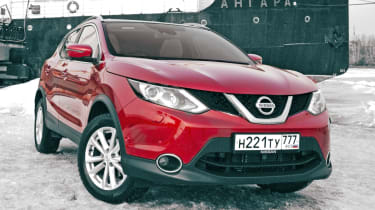 The first-ever crossover, Nissan's Qashqai, was originally intended mainly for the European market, but it's become such a hit it's now found in all corners of the world. To see what's made it such a success in the 10 years since its launch, and how Nissan has adapted it to suit even the most remote regions, we visited Siberia to try Russia's version.
The best bit? Driving the Sunderland-built Qashqai on top of a frozen Lake Baikal – the world's oldest and deepest lake, way out in the Siberian tundra.
Tech test for April Fools' day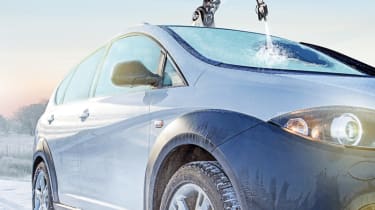 For April Fools' day, we asked several tech brands to come up with 10 innovations that were either real or made up. We asked our readers to guess which was which.
Our challenging compilation included tyres made from dandelions, an in-car kitchen assistant, a 360-degree pedestrian airbag and a robo de-icer (real, real, imagined and imagined respectively), and highlighted today's industry advances.
Flying future cars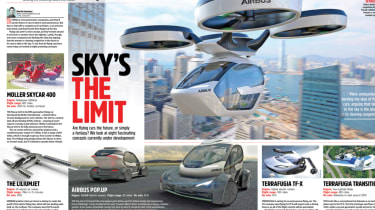 We let our imaginations soar as we took stock of eight flying cars, from far-off concepts to models on sale today. While the Airbus Pop.Up with its detachable canopy may still be on the drawing board, other models promised to arrive in a more timely fashion.
Deliveries of the Terrafugia Transition are due to start in 2020, while the Skyrunner is available now. Although not licensed for road use, the Skyrunner's dune buggy-cum-microlight design is great for "land management and adventure."
Road that can charge EVs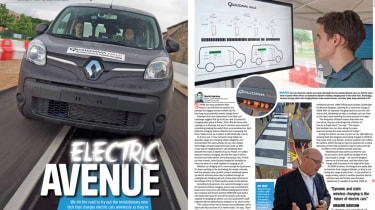 As EV numbers increase, the issue of charging becomes increasingly thorny. It's no problem if you've the luxury of a garage and charging point at home, but what about all those cars that spend their lives outside, often in random street spaces?
The answer lies beneath the tarmac. We visited Qualcomm in France and took a spin on the world's first road that can charge EVs on the move. The induction-charging prototype energises batteries via pads under the tarmac; experts expect to see roads become 'electric avenues' some time soon.
Dacia's eco car plant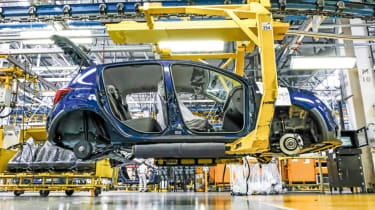 Renault-owned Dacia has a reputation for budget pricing, not advanced tech. But it does have the world's only zero CO2 and zero effluent car plant.
We reported from Dacia's Tangier factory in Morocco, described as Renault's attempt at "exploring what's possible" ecologically. It uses more than 90 per cent renewable energy from wind turbines and biomass boilers, and its closed- loop water cycle is key in a region with limited supplies. But return on investment limitations mean it isn't likely to be rolled out globally just yet.
Mazda's rotary half century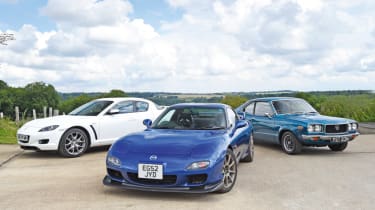 Mazda's famous rotary engine turned 50 this year, and in August we celebrated by driving the brand's recent RX-8 and classic RX-7 and RX-3 sports cars.
We didn't find out whether there was a new rotary Mazda in the offing, but a trip to Augsburg in Germany to visit the Mazda Classic Automobile Museum reminded us of the rotary's heritage – which extends to the iconic 1991 Le Mans-winning 787B.
How does new L-test affect drivers?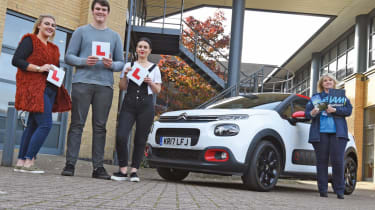 Ahead of the introduction of a new practical driving test on 4 December, we wanted to see what three recently qualified drivers would make of it.
The new test replaces the need to reverse around a corner with parallel parking. You'll also need to be ableto follow sat-nav instructions, and there's more independent driving for the examiner to monitor. Only two of our drivers passed the new test, but all agreed it was much more appropriate than the old one.
Our man in Munich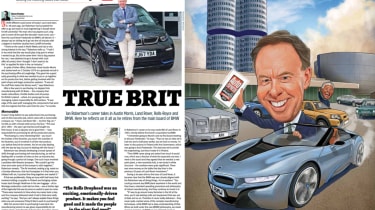 Our in-depth interview with BMW supremo Ian Robertson shed light on his near-four-decade-long career in the motor industry.
From packing fuel hoses in his luggage and flying back from Finland to keep Austin Montego production on track, to heading up Rolls-Royce, Robertson must have one of the richest and most varied CVs going. His retirement from BMW senior management may be approaching, but his presence in the sector will be felt for some years to come.
Review of the year 2017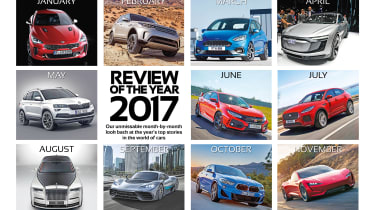 • Review of the year 2017: index• Best new cars 2017: the road tests of the year• The BIG car news highlights of 2017• Big car quiz of the year 2017• Head to head: best car group tests of 2017• The long haul: Our greatest long-term test fleet cars of 2017• Inside the world of cars: the best motoring features of 2017• Best car videos 2017• Amazing moments: our year in cars 2017• Motorsport review of the year: from F1 to WRC and BTCC