The long haul: our greatest long-term test fleet cars of 2017
We've run some amazing cars on our long-term test fleet in 2017. Here we choose some of our favourites
The Auto Express team racks up hundreds of thousands of miles each year and the lion's share of them are in our long-term test cars. Despite road tests and new car launches representing a large proportion of the journeys undertaken by the team, long-term cars do a bigger chunk of the daily driving and are used for everything from cross continent road trips to morning commutes. It means our long-term fleet not only bears the brunt of mile munching but also lets us get to know the cars really well.
• Best new cars 2017: the road tests of the year
Having reviews which span multiple months and thousands of miles offers true insight as to what ownership of a particular car is really like, with variables such as tyre wear, servicing and other tasks such as cleaning all being required. Our long-term test reports reach the parts other car reviews can't so read on, as below is a summary of the best long-termers Auto Express has had in 2017.
Which has been your favourite long-term Auto Express review? Let us know in the comments below...
McLaren 570GT
Steve Fowler, Editor-in-chief
In April, editor-in-chief Steve Fowler took delivery of McLaren's stunning 570 – at that time our reigning Best Performance car – in slightly softer, more usable GT form. And what a machine it proved to be.
From the moment the dihedral door arced skywards, no journey was ever mundane – sometimes for wonderfully positive reasons and sometimes because the McLaren failed to reach his expectations of a £150,000-plus supercar.
• McLaren 570GT long-term review
While the Porsche 911 Turbo S and Audi R8 V10 Plus use conventional metal construction, the McLaren's party piece carbon fibre chassis gives it something rivals at this price can't replicate.
The steering is superb and the damping compliant enough for everyday use, yet Steve found body control was wonderfully rigid when he took it on track. The huge performance meant country roads were a joy, while the extra boot space thanks to the Touring Deck behind his head meant it was relatively practical.
But persistent gremlins with the clunky infotainment system and other electrical woes marred the experience and took the shine off his 'ownership'. Still, when it looks this good, capping the loan with a night shoot outside Auto Express's office, it's easy to look back at the 570's Volcano Orange paint through rose-tinted specs.
Audi SQ7
Graham Hope, Editor
One of the most extraordinary cars we ran on our fleet in 2017 was the thrilling SQ7. The £92,210 (with options fitted) 429bhp twin-turbo super-SUV blended genuine seven-seat family friendly practicality with performance to terrorise sports cars.
But it turned in different performances home and away. Outside Graham's manor, suburban North London, the SQ7 was devastating. 0-62mph in 4.9 seconds tells you all you need to know. But in the capital, the SQ7's mammoth dimensions caused one or two problems. On the whole, though, our time with this remarkable SUV was very special.
Ford Edge
Stuart Milne, Carbuyer editor
The Edge isn't perfect, but you get a whole heap of car for the money. For some, its dimensions made it too unwieldy on the road, and too cumbersome in car parks. But for Carbuyer editor Stuart Milne, the interior space, great driving position and big boot made it the ideal family car for days out in the country.
Brash looks and a mixed interior quality wise split opinion, but it drove well and was surprisingly fuel-efficient (around 37mpg on a mix of driving). The ride was fairly floaty, but would send potholes rattling through the cabin as a result of the big wheels fitted to our Titanium-spec test car. And our model wasn't cheap, at £35,995.
Volkswagen e-Golf
John McIlroy, Deputy editor
You might expect that after running our pure-electric VW e-Golf, deputy editor John McIlroy would be full of bitterness about charging infrastructure, and warnings of range anxiety. But you'd be wrong.
• Volkswagen e-Golf long-term review
We now know that after a night on a Chargemaster home socket, the e-Golf can tackle his commute from Berkshire into London with ease. And that, even if the public charging point in our car park is being used by something else, it'll comfortably make it back home in the evening. The closest we've run to empty was 12 miles on the battery. The rest of the time, it's just a Golf. Which is another way of saying it's brilliant at nearly everything it does. It has that terrific blend of space, practicality, performance, tech and comfort we've come to expect.
Skoda Superb
Steve Walker, Website editor
The Skoda Superb in racy Sportline trim run by Auto Express website editor Steve Walker sounded pretty good before it arrived, but when we enquired about the colour, something seemed to be up...
It didn't take long to realise what. Skoda was paddling its boat in a more dynamic direction with Sportline versions of the Superb – gloss black trim, a fantastic-looking set of 19-inch alloy wheels, lowered sports suspension, plus a bold colour palette. In fact, as we found out, 'bold' doesn't really do justice to 'Dragon Green'.
• Skoda Superb Sportline long-term review
Instantly adding the modest Skoda executive saloon to the list of man-made objects visible from space, Dragon Green put the car and whoever was driving it right at the centre of attention.
It was extremely bright, but after a while Steve just got used to it and started to enjoy the outstanding qualities of the car beneath the apparently radioactive paintwork. Huge rear passenger space and a boot to match, finely judged handling and a simple but slick interior design all counted in its favour.
The sports suspension wasn't really necessary and the 148bhp 1.4-litre engine was occasionally found wanting in terms of power, but the Superb was great to live with – and people still ask Steve what happened to the 'green car'...
BMW 5 Series
Jonathan Burn, News editor
The 5 Series has been one of the most well rounded cars on our fleet. News editor Jonathan Burn is coming to the end of his six months with the executive saloon, during which time it has proved itself a refined cruiser on numerous trips to his home town of Newcastle and even ferried people to Le Mans.
What makes it such an impressive car is its blend of luxury, refinement and performance; the 5 Series has set a new benchmark in the executive saloon class. The tech it features inside is also good enough to show up perhaps BMW's most advanced car, the i8. You won't get gesture control, remote parking and wireless phone charging in the sports car. Plus, it's great to drive with an agile chassis, weighty steering and a punchy powertrain.
Volvo V40
Richard Ingram, Reviews editor
Reviews editor Richard Ingram often gets stick from his work colleagues for an obsession with CO2 and mpg. So when Rich took custody of our facelifted V40 earlier this year, the headline figure of 83.1mpg had him intrigued. Our man decided to put the claims to the test.
He devised a challenging trip, including a mixture of town roads and motorway miles, to see just how close he could get. The results were impressive, and loftier than even Richard had imagined, with the frugal family hatch returning a scarcely believable 74.6mpg. After that, everyone in the office was noticeably keener to grab the keys to our super-economical Swedish star.
Jaguar XF
James Batchelor, Editor-at-large
There couldn't have been a more appropriate car for our editor-at-large in 2017. James Batchelor swapped his modern-looking Jaguar XE for the more traditional-looking XF, but it soon became apparent he made a mistake when specifying it.
In the Auto Express office, Batch's XF attracted the nickname 'Inspector Morse' – and to embrace this ourman took his car to Oxford and to the 'Bridge of Sighs'. Despite the image the XF proved to be great to drive and efficient to run, but its technology soon became old- fashioned once our BMW 5 Series joined the fleet. Still, the Jag proved a big hit over 20,000 enjoyable miles.
Peugeot 2008
Martin Saarinen, Consumer editor
Consumer editor Martin Saarinen was handed the keys to our 2008 in early January, and his first task was to test how well it kept up with its promises of adventure – as shown in the Peugeot adverts.
Several mountain bike trips and long drives to Wales quickly showed the 2008 is more than up for some light weekend adventures. It's hardly fit for off-roading, with its road-biased set-up and front-wheel-drive powertrain, but it handled some taxing trips around the country.
• Peugeot 2008 long-term review
With the seats down, the 1,400-litre boot had no issue taking Martin's mountain bike, too. Meanwhile, in town Martin liked the taller ride height of the car, while the soft suspension set-up meant potholes were rarely an issue.
Mitsubishi L200
Kim Adams, Products editor
Our L200 has been a star car in 2017, taking another Best Pick-up gong in our New Car Awards, and showing why over more than 12,000 miles. It has been a true workhorse, transporting products guru Kim Adams' competition cars around the country, and even venturing abroad for a week-long, 2,500-mile tour of three French track days with his Mazda MX-5 on a trailer behind.
• Mitsubishi L200 long-term review
Watching other drivers struggling to get tools, tyres and all the other kit needed into cars and SUVs made us truly appreciate the L200's versatility. Yes, car parks can be a challenge with such a large vehicle and the fuel economy is poor, but if you want a pick-up, this is the one to go for.
Volkswagen up!
Sean Carson, Chief reviewer
To say our up! is like a pair of Beats headphones worn with a smart suit is underselling the city car, but it's a great analogy for what the 1.0 TSI Beats model chief reviewer Sean Carson ran this year was like.
It balanced youthful appeal on account of its new, smartphone-based infotainment system and punchy Beats stereo in this specification with an incredible level of maturity and composure thanks to the 89bhp turbocharged 1.0-litre three-cylinder and supple chassis.
• Volkswagen up! long-term review
The great engine, a slick manual gearbox, accurate steering and a sub-1,000kg kerbweight mean it was brilliant to drive, too, and while a lack of mass improved the handling, it also meant we averaged well over 50mpg, keeping running costs to a minimum. It's a near-perfect little city car, and you could convincingly argue that it's one of the best-value models on sale today.
BMW M240i coupé and convertible
Steve Sutcliffe, Special contributor
Having run a convertible M240i for a few months early in the year, Steve Sutcliffe took delivery of a coupe M240i to compare the two back to back. And that led to one of the most dramatic photoshoots of the year, We wanted to show both cars, so we ended up doing a doughnut in the convertible, right around the coupé.
We did two full laps of the coupé with the rear tyres of the convertible M240i smoking and spinning – a great demonstration of how balanced and fun to drive the M240i is. In fact, the more we drove the M240i, the more we fell in love with it. This is a seriously rapid car that's also surprisingly refined and dead easy to live with at the same time. We're not sure there's anything else on the road that's quite like it – even the more hardcore and expensive M2.
Nissan Micra
Lawrence Allan, Senior staff writer
It's an unofficial Auto Express tradition to dress up in the odd fleet report, and senior staff writer Lawrence Allan felt the need to illustrate why his Micra had been nicknamed "The Fox". The pointy nose and bold colour scheme made our example one of the more distinctive cars on the road.
• Nissan Micra long-term review
There's more to the Micra than that, though. The interior has a grown-up look and feel, neat tech features and a very intuitive layout. Plus, lanky Lawrence found it easy to get comfortable behind the wheel. After 7,000 miles the 0.9-litre petrol engine had loosened up, but it still lacked the performance and refinement of other leading superminis.
Mazda MX-5 RF
Sam Naylor, Senior reviewer
Changeable weather in summer meant senior reviewer Sam Naylor was able to really put the MX-5 RF's roof to the test. In wet weather it proved more civilised than the soft-top version, but when the sun shone there was no missing out on the feeling of open-top fun.
• Mazda MX-5 RF long-term review
On the road, the responsive naturally aspirated engine was an antidote to the turbocharged units in most of the cars we test, with a zingy exhaust note, revvy nature and exciting power delivery. Plus, the engaging rear-wheel-drive handling and sweet gearbox meant it was fun to drive just about anywhere. From airport runs to trips up to North Yorkshire from Surrey, the MX-5 was always a pleasure.
Suzuki Ignis
Darren Wilson, Art director
Seventeen years ago, art director Darren Wilson collected his new-born son George from hospital in an Auto Express fleet car. This year, Darren has had the pleasure of teaching George to drive using our Suzuki Ignis. And both Wilsons loved the boxy SUV-styled city car. Its mix of clever safety tech and simplicity to drive made it the ideal car for those first runs out on the road.
• Suzuki Ignis long-term review
Whenever Darren got behind the wheel he found the car cleverly designed and surprisingly practical, with plenty of room for his family of four on weekend trips. Fuel consumption remained around the50mpg mark, keeping costs low enough to afford some more professional driving lessons for George.
Renault Mégane
Dawn Grant, Picture editor
Our Mégane definitely got the thumbs-up during its six months on our fleet; its eye-catching styling meant it got loads of attention, and the comfortable suspension ensured it was great on motorways. And the car's helpful tech even persuaded picture editor Dawn Grant to embrace more driving aids.
The self-parking system parks the car in any space automatically, although as it has to be lined up perfectly there were a few more manoeuvres than we'd do if we were parking manually – which got a bit frustrating.
• Renault Megane long-term review
Still, Dawn did become a fan of the speed limiter and cruise control, as well as the safe distance warning.The traffic light system on the dash acts as a constant reminder to the gap between yourself and the car in front.
SEAT Ateca
Pete Gibson, Senior staff photographer
Our photographers travel more miles than any other staff member at Auto Express, so for senior snapperPete Gibson, there's nothing better than a motor which is comfortable and can carry a load of kit.
It's also key that the boot is able to accommodate a full-sized photographer at a moment's notice – as Pete is often found hanging out of the back, taking photos of nearly every car you see in the road tests each week.
Once we get to our test tracks, our man takes his gear out of the boot and hops inside, so the Ateca's big capacity and low loading lip are perfect. Pete wasn't so sure about the ride, as it was on the firm side and made it a bit harder to get a pin-sharp picture every time.
Still, once the shooting was over and it was time to head home, our man loved the Ateca's punchy 1.6-litre diesel engine and engaging handling. The slick manual gearbox was fun to use, and the precise steering made twistier routes more exciting as well. The bright orange paint was a bit too eye-catching for his taste, but Pete loved running the new SUV this year.
Have you owned any of these cars? Let us know what you thought of them in the comments section below...
Review of the year 2017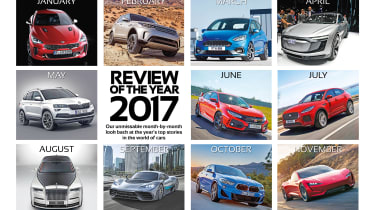 • Review of the year 2017: index• Best new cars 2017: the road tests of the year• The BIG car news highlights of 2017• Big car quiz of the year 2017• Head to head: best car group tests of 2017• The long haul: Our greatest long-term test fleet cars of 2017• Inside the world of cars: the best motoring features of 2017• Best car videos 2017• Amazing moments: our year in cars 2017• Motorsport review of the year: from F1 to WRC and BTCC