Amazing moments: our year in cars 2017
Members of the Auto Express team pick out their abiding memories of another fascinating 12 months
A great man once said, 'life moves pretty fast. If you don't stop and look around once in awhile, you could miss it'. A useful adage which is also true of the wide range of cars the Auto Express team has driven in 2017.
From the 'world's fastest SUV' to an electric Jaguar E-Type, there has been some truly mind boggling cars. So read on below, as members of the AE team take stock of their stand out moment from 2017.
• Head to head: best car group tests of 2017
The world's fastest SUV
Steve Fowler, Editor-in-chief
"In what has been a bumper 12 months for two of the subjects I find most interesting – electric cars and autonomous vehicles – a bit of old-school power provided my 2017 highlight. Jeep boss Mike Manley asked if I fancied a trip to Michigan to have an exclusive first go in the new Grand Cherokee Trackhawk – billed as the world's fastest SUV, with a 0-60mph time of 3.5 seconds and a top speed of 180mph.
• Grand Cherokee Trackhawk prototype review
"It didn't disappoint, with incredible performance and surprising poise, but I couldn't tell what was noisier, the Trackhawk's bellow or the thunderstorm during our test."
A brazen tribute act in Shanghai
Graham Hope, Editor
"I love Chinese motor shows; you see all sorts of oddities. But the Zotye stand at April's Shanghai event was something else. Everywhere you turned was a lookalike model that had taken 'inspiration' from a mainstream European car.
"And the really bizarre thing was that there was no coherent element to any of it, other than the desire to copy. It effectively turned the stand into a motoring Madame Tussauds (or Chamber of Horrors depending on your point of view). Among the wildly different cars Zotye had 'paid tribute to' were the VW Tiguan, Smart ForTwo and Audi A6. But the star attraction was the SR9 – a blatant Porsche Macan homage. You'd think the team responsible for such obvious plagiarism would want to lie low. But Zotye's brass-necked execs were happy to discuss the clones at the brand's press conference."
Meeting Robert Kubica
John McIlroy, Deputy editor
"There are relatively few real heroes in motorsport, but for sheer guts and dogged determination, it's hard to top the story of Robert Kubica. Once F1's star-in-waiting, the Pole seemed to have ended his career with a horrendous rally crash.
• Robert Kubica completes 2017 F1 test
"In July Kubica came to Goodwood to drive Renault's F1 car up the famous hill, and I was one of a few hacks allowed some time with him. I found him charming company – witty, with a very dry sense of humour."
Mobility revolution
Stuart Morton, Managing editor
"'What is daily life like for a disabled driver behind the wheel of an adapted car?' That's the question we asked back in September, shining a light on an often-forgotten group of nearly two million motorists in the UK, according to the DVLA.
• Disability cars and driving aids
"In the process, we met car-mad Bournemouth University researcher Paul Whittington, who has developed an app to control the Automatic Transport and Retrieval System in his adapted Ford Galaxy. This allows cerebral palsy sufferer Paul to stow his wheelchair automatically in the boot once he's climbed into the driver's seat of the MPV.
"Hearing about the difference this ingenious tech makes to Paul's life was utterly inspiring. But he isn't waiting for the autonomous car revolution, which many observers claim will bring massive changes in mobility; Paul is working on other innovative ways to help disabled people get behind the wheel right now."
The Red Arrows driving the DB11
Richard Ingram, Reviews editor
"Earlier this year, I was lucky enough to join the Red Arrows at Millbrook Proving Ground in Bedfordshire, with a fleet of the latest Aston Martin sports cars. The idea was to see if being among the UK's most talented fighter pilots made you a world-class driver, too.
• Red Arrows pilots test their skills in Aston Martins
"During the day I got the opportunity to quiz the Arrows and learn about their driving history – and as it turns out the differences between a 600bhp supercar and a multi-million-pound jet are rather pronounced. To many, the new Aston Martin DB11 is the pinnacle of sporting luxury, but to squadron leader David Montenegro, it didn't even feel that fast…"
Goodwood Festival of Speed
Jonathan Burn, News editor
"Summer in the UK means the Goodwood Festival of Speed. My highlight was a ride up the hill in the Lamborghini Huracán Performante by Marco Mapelli – who set a new Nürburgring lap record in the Performante earlier in the year.
• Goodwood Festival of Speed round-up
"He's an exuberant character and likes to show what he can do; a rather dramatic and sideways exit from the paddock resulted in a strong telling off from one of the stewards. Mapelli clearly wasn't fazed and neither were the spectators, who lined up in their droves to get up close and personal with the most exciting cars around."
Mini Remastered
James Batchelor, Editor-at-large
"It's not often you get the chance to drive a brand new version of an old car – but that's exactly what happened to me this year when David Brown Automotive asked me if I wanted to drive its new Mini Remastered.
"Each model starts out as an original car; its VIN plate is carried over to a new de-seamed shell and interior. Think of it as a modern version of one of those coach-built sixties Minis.
"It still drives like a Mini, with a painful driving position, too much road noise, but also near-perfect handling. David Brown charges £99,000 for the Inspired by Monte Carlo I drove, but it was one of those special first drives I'll never forget."
Driving the Porsche 911 GT3
Sean Carson, Chief reviewer
"This has been a vintage year for performance cars, with the Lamborghini Huracán Performante delivering on the promise at the top end of the market, and models such as the new Honda Civic Type R offering incredible ability at an attainable price.
• Best performance cars on sale
"However, my performance highlight of the year has to be the new Porsche 911 GT3. It's Auto Express's Best Performance Car 2017, with its scintillating 493bhp 4.0-litre flat-six engine revving to 9,000rpm. Yet it's the purity of the steering and the extreme grip that doesn't come at the expense of beautiful balance that makes it one of the most visceral but communicative cars around."
New Car Awards photoshoot
Darren Wilson, Art director
"With 22 classes of award-winning cars filling 53 pages of the magazine, it was a busy time for snapper Pete Gibson and myself in the photography studio. As our annual Auto Express car awards have grown in size and importance, so have the demands for pictures.
"This year we produced animated 'giffy' images to help promote the awards online and across social media. We achieved these by setting up each 'finished' car shot, then turning off all the studio lights. I then skipped around the studio turning the lights back on one by one as Pete took pictures. To see the effect visit www.autoexpress.co.uk and click on our awards."
Bringing roads to the 21st century
Martin Saarinen, Consumer editor
"There were no supercars or fast jets involved in my highlight of the year. But visiting MacRebur, the Scottish start-up recycling plastic into stronger, longer-lasting road surfaces, was truly fascinating.
• Could plastic roads solve the pothole crisis?
"The company, based in Dumfries and Galloway, is solving both the UK's recycling and road problems with some clever engineering, passion and some strong patents. MacRebur is already working with a number of countries using its tech and is gaining international recognition. All the better that Auto Express told you about it first!"
Kodiaq bear hunt
Lawrence Allan, Senior staff writer
"The average working week at Auto Express is nothing if not varied, but some assignments are more bizarre than others.
"Skoda had recently launched its Kodiaq SUV, which is named after a type of brown bear, and when planning our Skoda special issue we came up with the idea of using one to go on a bear hunt.
• Going on a bear hunt: 900-miles in a Skoda Kodiaq
"With the best health insurance we could afford, staff photographer Otis Clay and I drove from Skoda's home in Prague to a town at the foot of the Slovakian High Tatras mountains called Starý Smokovec, a place that has a notorious pest problem with the furry predators.
"After a fruitless search around the town we pointed the Kodiaq up the mountain and headed into the forest. Taking the Skoda to its limits off-road, we stumbled upon some freshly laid paw prints, but the bears themselves remained elusive. Perhaps a bright red, seven-seat SUV isn't the most subtle way to track wildlife after all…"
Jaguar's innovative E-Type Zero
James Brodie, Staff writer
"This has been quite a year for fans of electric vehicles, with many brands making clear and comprehensive commitments to electrification. One new EV in particular caught my eye, though; Jaguar Land Rover Classic's E-Type Zero concept.
• Jaguar E-Type Zero prototype ride review
"Not everyone will warm to the idea of that iconic shape being home to an all-electric powertrain, but what impressed me about the E-Type Zero was JLR Classic's ambition to keep the car as close to the feel of the original as possible. This is clear in engineering terms, where the powertrain has been developed to sit within the original E-Type chassis."
Which has been your favourite car Auto Express has covered? Let us know in the comments below...
Review of the year 2017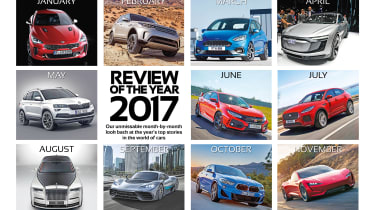 • Review of the year 2017: index• Best new cars 2017: the road tests of the year• The BIG car news highlights of 2017• Big car quiz of the year 2017• Head to head: best car group tests of 2017• The long haul: Our greatest long-term test fleet cars of 2017• Inside the world of cars: the best motoring features of 2017• Best car videos 2017• Amazing moments: our year in cars 2017• Motorsport review of the year: from F1 to WRC and BTCC