Vauxhall VXR8 vs rivals
Can Vauxhall's Australian-Bred muscle car see off rumbling V8 rivals from Chrysler and Jaguar?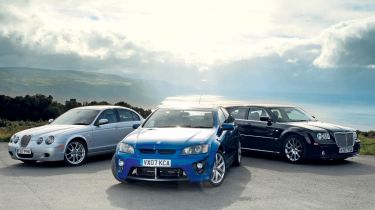 The muscle car is 50 years old. Chrysler, Plymouth and Dodge all claim to have pioneered the breed, but the first genuine example was 1957's AMC Rambler Rebel – a 255bhp V8 promoted as "America's fastest four-door".
It started a craze that lasted nearly 20 years, and reached as far as Australia. The oil crisis in the Seventies brought an end to mid-size cars with huge V8s, but now, they're back – with the US and Australia again at the forefront.
Not that you're meant to know Vauxhall's VXR8 hails from Down Under, where it's badged the Holden HSV Clubsport R8. As with the Monaro coupé before it, this is a full UK-spec car, sold and maintained through Vauxhall's dealer network. It's powered by a Chevrolet Corvette engine and costs £35,105, so it's no wonder the maker claims nothing else offers more bang for your bucks.
Chrysler might have something to say about that. The 300C is a striking saloon that's been a hit in diesel guise. Here we're interested in the flagship SRT-8, complete with a 6.1-litre HEMI V8. The four-door costs £39,850, but for extra entertainment, we're testing the recently launched £41,110 estate.
Britain also has its own take on the muscle car, in the shape of the Jaguar S-Type R. It's soon to be replaced, but has been kept fresh with tweaks, and shares its supercharged powerplant with the mighty XKR coupé. To add to its appeal, Jaguar has cut the price by £5,000, taking it to £45,090.
That means the S-Type costs £113 per bhp. Chrysler charges £97 and Vauxhall £85, so round one goes to the VXR8. Can the hot saloon retain this lead as we look for the best muscle car in Britain?
Verdict
On paper, these models have much in common. All are rear-wheel drive, based on standard executive class cars and powered by V8s developing at least 400bhp. In other words, they possess everything a muscle car should.
In reality, there's lots of variation, and each reflects its national identity. The 300C seems to have rolled off a Californian drag strip. Brash and crude, it's good on straights, but less so in corners. The S-Type is more reserved; it goes about its business confidently, yet sees no need to shout about it.
The Australian VXR8 is a blend of the two. It's far more extrovert and fun-loving than the Jag, but is keen to impress with its sporting ability. Although it's not as polished as the Brit, the roaring V8, meaty road manners and sheer charisma ensure the Vauxhall is enjoyable in any situation. Factor in a price saving of at least £6,000, and the case becomes even more clear cut.