Subaru Impreza vs rivals
Subaru has gambled by axing the saloon shape of its legendary Impreza in favour of a hatch. We see if it's paid off as the new entry-level model meets its key rivals.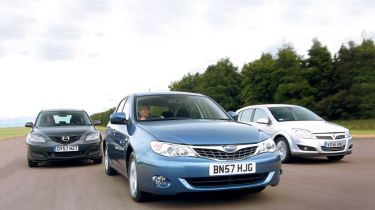 It's the Impreza, but not as we know it. Subaru has made a brave move with the latest generation of its most famous model, and this is the result. It will be a shock to many, as designers have shifted the car away from its saloon roots and deep into hatchback territory.
This is all part of a plan to move the entire brand upmarket while giving the Impreza more mass appeal. The initial emphasis is on the normally aspirated cars in the new range, although as with their forthcoming turbo counterparts, they feature all-wheel drive.
Subaru claims the five-door hatch retains the hot saloon's driver appeal while adding extra practicality and keen pricing. It should offer more space than its predecessor, which bosses hope will help them in their bid to compete more directly in the European market. One of the biggest hurdles the new Impreza has to overcome is people's perception of the car. Most associate the model with the STI performance variants – complete with big spoilers and booming exhausts – rather than a family-friendly five-door.
The new model is also taking on established rivals more familiar to hatchback buyers. So we've pitched it against the big-selling Vauxhall Astra and Mazda's capable 3. Both combine entertaining driving with practicality in an affordable package. Does the new Impreza have what it takes to crash the party?
Verdict
Subaru has high hopes for its latest Impreza. But while the firm has earned a reputation for building decent performance cars, as well as workhorses such as the Forester, it's not known for making family hatches.
That is a big challenge to overcome and, unfortunately, the new Impreza doesn't succeed. The styling is plain, while interior quality is way behind that of the best in this class. Being cheap and well equipped isn't enough to compensate for its shortcomings – particularly the underpowered engine, poor economy and relatively high emissions. So it finishes third.
While the Astra has plenty to offer, ultimately, it falters in several key areas, and comes second. The Mazda isn't as well built as the Vauxhall but, with more interior space, a better boot and good dynamics, the 3 is a more capable all-rounder and represents better value. It takes the victory.