Cadillac CTS vs Lexus IS
The dramatic new CTS saloon promises to put US giant Cadillac on the map in this country. We see if it's a better choice than the Lexus IS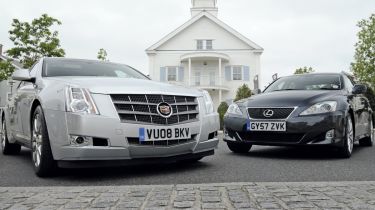 American cars make real sense at home in the US. Wide open spaces and straight roads are the perfect place to enjoy big, powerful models like the latest Cadillac CTS. But the environment is very different on this side of the pond.
If you're buying a compact executive model in the UK, the big three hail from Germany, in the shape of the BMW 3-Series, Audi A4 or Mercedes C-Class. If you want something different, a Lexus would seem to be the obvious alternative. So, is there any room for the CTS over here? Cadillac knows the saloon faces a huge challenge breaking into the European market, and has given it a head start. Despite being similar in size to a Lexus GS, the well specced CTS is closer in price to the Japanese brand's smaller IS.
As a result, the contenders in this test approach the premium car market from very different angles. Up against the CTS is the Lexus IS250 SE-L. The flagship of the IS line-up, it's fitted as standard with all the equipment you expect from a compact executive model. Powered by a lower-capacity, 2.5-litre petrol engine, it can't quite match the performance of the 3.6-litre Cadillac – although its smaller size is reflected in a more attractive price. Will that be enough to seal victory in this test... or will the latest CTS emerge as a better alternative to its European competitors?
Verdict
Cadillac bills the CTS as a cut-price BMW 5-Series rival, but taking on the best in the business is a tall order. In reality the US saloon is a full-sized executive that's the price of a compact one. But is that enough for it to be a success?
There's no doubt the CTS is a big step forward and is the most Euro-friendly US model we've tested. It looks distinctive, and interior quality is the best we've seen from the firm. Ultimately, though, it finishes behind the Lexus. While the Japanese car isn't as fast as the Caddy, it doesn't share its thirst for unleaded or CO2 emissions, either. The Cadillac dealer network is also small, and faces a strong rival in the shape of the well drilled Lexus brand.
Bosses shouldn't be dispirited, though, because the CTS will appeal to those looking for something different. With a diesel set to join the range next year, the contest will be closer.