VW Scirocco vs MINI JCW
Two of the most famous performance cars of all-time are back – and doing battle here in the ultimate hot head-to-head. Who dares wins...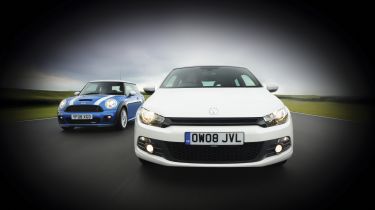 Coupes place style above substance; hot hatches place substance above all else. You could assume, therefore, that the two classes have little in common. Yet each aims to offer the same kind of feelgood factor – and Volkswagen has tried to bridge both sectors with its new, reborn Scirocco. When we pitted it against three traditional coupé rivals in Issue 1,028, the German newcomer couldn't quite match the unique looks and sense of occasion of our current compact sports car favourite, the Audi TT.
But the Scirocco's on-road abilities did impress. With its Golf GTI-derived chassis, engaging driving experience and versatile cabin, it felt much more like a top hot hatch. And with a £20,940 price tag, the VW is also pitched straight at traditional pocket rocket rivals. In fact, getting behind the wheel of our current hot hatch champ, the MINI John Cooper Works, costs you only £45 more.
A punchy 208bhp engine, highly entertaining driving dynamics and bags of retro charm make the British-built JCW stiff competition for any sports model. Can the Scirocco emerge victorious – and decide just what it wants to be?
Verdict
These two cars are closely matched on price, performance and ability. But their characters couldn't be more different.
The Scirocco is a great all-rounder, delivering a good blend of eye-catching looks, strong performance and polished driving dynamics. While the cabin is highly competent, it could do with more flair – but even that's forgiven when you see the price.
As a hot hatch, though, the VW is trumped by the firebreathing MINI. For driving fun and raw thrills, the JCW has its rival beaten hands down. Where the Scirocco demands your respect after a drive, the MINI leaves you itching to jump straight back in to head for your favourite stretch of B-road. The agile handling, blistering straight-line pace and mischievous character ensure it remains unbeaten as our favourite pocket rocket.