MINI First vs Rivals
MINI has put the cat among the pigeons in the city car class with its cut-price First model. We see if it beats Toyota and Fiat rivals...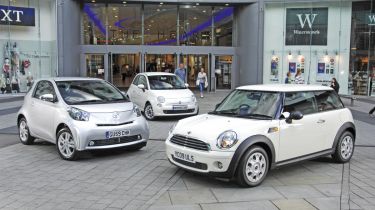 Stylish superminis are hot property, thanks to their low running costs, cute looks and compact dimensions. And the most desirable of all is the MINI.
Until now, though, buyers have needed at least £12,000 just to get the keys to a base model. However, a new, sub-£11,000 car has been launched. It's badged the First, and features a detuned 1.4-litre engine plus a pared-down kit tally.
Crucially, though, it still has the appealing styling, dynamic handling and involving driving experience that has made every other MINI such a sales hit. It's not the only attractive supermini tempting buyers to part with their hard-earned cash, though.
The Fiat 500 is the ultimate fashion accessory. At £11,100, the 1.4-litre Sport meets the challenge of the new cut-price Brit head-on, and brings a retro charm offensive of its own.
The ultra-modern Toyota iQ is muscling in on proceedings as well, and comes with a new 1.33-litre engine to match its competitors for performance.
Although the Japanese car is easily the smallest model in this shoot-out, its novel 3+1 seating layout, stop-start engine technology and fine spec shouldn't be underestimated.
Which one of our trio will be the king of the urban jungle?
Verdict
All our city cars have to score for desirability, low running costs and practicality. And while the Toyota manages the first two with honours, it struggles on the latter.
If you're not planning to carry more than one passenger, the iQ's compact layout will be fine – fold one or both of the rear seats and you have a usable boot space. Plus, it offers a comfortable cabin, quirky looks, a flexible, frugal engine and penny-pinching costs.
The Japanese car finishes third because the Fiat can do all this while carrying extra passengers. It's not as cheap to run, but the 500 looks great, has a spacious and stylish interior and features the perkiest engine here. It could have won this test – had the MINI not felt like such a premium product in comparison.
Sit in the First, and you could be forgiven for thinking you were aboard a more expensive Cooper or Cooper S model.
Interior quality is leagues ahead of the other two cars, and although the weedy engine provides sluggish pace, the newcomer is refined and economical.
Add a beautifully balanced chassis and low running costs, and there is no doubt the MINI is the rightful winner.
* 1ST: MINI First The new First is a revelation, as it provides buyers with a glimpse of the affordable feel good factor the Sixties Mini offered. Superb handling, an economical 1.4-litre engine and low running costs mean it thoroughly deserves to claim victory in this test.
* 2nd: Fiat 500 1.4 sport With the liveliest engine here, the 500 will be the obvious choice for many, and its stylish interior adds to its appeal. It had to settle for second place this time, but the cheaper and more economical 1.2-litre Stop&Start model may have fared even better.
* 3rd: Toyota iQ3 1.33 If you don't carry passengers often, the iQ is the perfect city car, with its compact dimensions, smooth engine, airy interior and quirky looks. But the tiny rear, even smaller boot and hefty price see it struggle in this company.