Revealed the greatest Porsche 911
Four decades of supercar legends come together as we pick the finest-ever Porsche.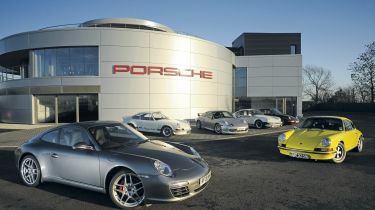 Porsche has built numerous groundbreaking performance cars in its time, but none has remained so consistently at the top of its game as its most famous model: the 911.
The rear-engined coupé has legions of loyal fans and owners across the globe, while its unique shape, chassis layout and racing pedigree are at the heart of the firm's brand image.
To celebrate Porsche's rich history, bosses are opening a new museum at their plant in Germany.
It will hold 80 of the most significant models – many of which will no doubt be 911s. But which version is the best? To find out, we've brought together six models from the past 40 years that we think are the epitome of the 911. We start with the Sixties original, before working our way through the Seventies with two race specials.
Then, we enter the modern era by looking at the influential 993 and 996 generations, and finally the latest 997 model.
All six were given a workout at the all-new Porsche driver training centre, at Silverstone, Northants.
E-mail chris_thorp@dennis.co.uk to let us know whether you agree with our selection.
Get a taste of a porsche This summer, Porsche opened its superb driver training centre next to the Silverstone circuit in Northants. It uses 3.1 miles of track, and offers dynamic test areas, off-road courses and low-friction surfaces. A range of experiences is available to owners and the general public alike. The main building (above) incorporates a restaurant, showroom, shop, roof-top viewing gallery and gym.
Roll back the years on 31 January, the doors open to Porsche's new museum at its factory in Zuffenhausen, Germany. In addition to the 80 vehicles on display, there is an extensive archive, and you'll be able to view historic cars being prepared in the workshop. All exhibits will be fully functioning. The museum will be open from Tuesday to Sunday, and entry costs 8 Euros, with children under 14 getting in for free.
Verdict With a history stretching back more than 40 years, the 911 is one ofthe most recognisable models on the planet. Such is its amazingevolution that, despite the gulf in technology between the generations,the car's feel and image remains as strong as ever.
Therear-engined layout continues to defy the laws of physics, and thePorsche remains the performance benchmark by which every classcontender is judged.
This car has more race and rally victoriesthan any other machine, and thousands of enthusiasts enjoy theirPorsche every day. So although we have featured only six of the great911s here, nearly every model to wear the badge is tough to beat.
Best to drive 997 Carrera S Pickinga winner is tough, but the current 997 has a huge spread of talents.The Carrera S is one of the best performance cars around.
Most desirable RS lightweight sportingpedigree makes the 2.7 RS one of the most appealing 911s ever. That'swhy people are willing to pay £250,000 to own one!
Best value 996 GT3 Currentlyworth around £45,000, the GT3 is far from cheap – but this is aguaranteed future classic. Its race-bred powerplant delivers stunningpace.
Best Classic Pre-1974 911 With a classicshape and stylish image, the original 911 oozes style. Good examplesare hard to find, yet even bad ones are cool.
Most inventive 1978 911 Turbo pioneeringtechnology ensured original 911 Turbo was one of the Seventies' mostexciting supercars. It's still a strong performer.
Verdict