The Ruling Class?
It promises refinement, luxury and driver appeal – but can the new E-Class deliver? We test saloon and coupé against Jag, Audi rivals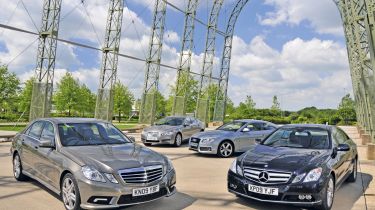 Mercedes has 
one of the most 
diverse line-ups 
in the world, but executive saloons are its bread and butter.
The firm's reputation is founded on its prestige models, although its crown has slipped in recent years as successive generations of E-Class have been pushed further down 
the executive pecking order.
Mercedes claims the all-new model sets the benchmark for safety and comfort, as well as being the greenest car in its class. Will that be enough to put it back at the front?
Unusually, the firm has launched saloon and coupé versions at the same time, so we have put both through their paces in an E-Class super-test. To see if the four-door measures up, we have chosen the E220 CDI – expected to be the most popular engine choice in the line-up. However, if you're 
in the market for a luxurious diesel there's only one model to beat: the Jaguar XF.
The reigning Auto Express Car of the Year and Driver Power 2009 champ is a formidable opponent. And it now features a new 3.0-litre diesel promising more muscle and refinement.
In our second pairing, the E350 CDI diesel Coupé is pitched against a rival from closer to home. Audi's A5 3.0 TDI blends quattro four-
wheel drive with sleek looks. Which will come out on top in the fight for honours?
Verdict
Saloon Verdict
A handful of prestige brands dominates the executive saloon market, so new arrivals are big news.
The latest E-Class has strong green credentials and comes loaded with safety-related kit, but it is outclassed here. The Jaguar XF is more desirable to look at and sit in, plus better equipped and more powerful.
In Sport trim, you can forgive the Mercedes for not riding with the same composure as the Jaguar. Yet it's not as sharp or fun to drive either.
Lesser models are cheaper, and – without our car's sports suspension – promise greater comfort. But the uninspiring looks and bland cabin leave the E-Class lagging behind the undisputed class leader.
Coupe Verdict
THE E-Class saloon finished second in its category, but can the Coupé restore some lost pride for Mercedes?
Executive coupé buyers are a demanding bunch, and their cars require a diverse range of talents. They have to look the part, yet also need to soothe, engage and pamper.The two-door Mercedes
gets closer to this brief than its four-door stablemate, with more cohesive looks and punchy performance from its 3.0-litre V6 diesel engine.
But the Audi A5 is the finer all-round package. Classy looks, a high-quality interior and secure handling give it the edge in this contest. It is more desirable to own and better to drive than its latest rival.