Porsche Panamera vs rivals
Porsche's new Panamera is the firm's first stab at a four-seat grand tourer. We pit it against an array of diverse and desirable rivals to see just where it fits in.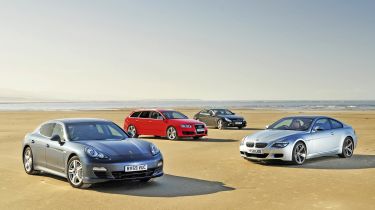 Porsche has been swimming against the tide for years. The legendary 911 retains its physics-defying rear-mounted engine, and the line-up has never included a conventional saloon – until now.
The long-awaited Panamera is the car Porsche followers have been craving for decades. With eight cylinders, five doors, four seats and an optional twin-clutch PDK gearbox, it gives 911 owners who need more space an alternative to the firm's chunky Cayenne SUV. It also brings the company up against a raft of diverse rivals. So what better way to get under the skin of the newcomer than to pitch it against three very different opponents?
The first car lining up against our entry-level Panamera S is the BMW M6. With its two-door coupé body, it puts style ahead of practicality. However, its new Competition Pack means it should set the standard in terms of dynamics. For buyers after more space, the Audi RS6 Avant takes some beating. As with the BMW, it boasts a powerful V10 and scorching pace. But unlike rivals here, it's the only car that is available as a versatile estate.
The Mercedes CLS 63 AMG completes our quartet – and is closest in concept to the Panamera. The sleek saloon marries storming V8 pace with a luxurious cabin. Read on to see how the new Porsche fares...
Verdict
Has Porsche hit the jackpot with its first ever five-door? Undoubtedly. The Panamera is cheaper than its rivals and has a broader spread of talents. Great to drive, practical, luxurious and economical, our only gripes concern its firm low speed ride and outlandish styling.
Ranking the rest of the cars isn't so easy. The BMW M6 is the most rewarding to drive on track, but its clumsy gearbox, lack of engagement at lower speeds and coupé body mean it finishes fourth.
The tussle for second and third spots is between the head and the heart. The understated Audi RS6 is the logical choice. It's startlingly fast, incredibly practical and beautifully trimmed, but you can barely use its astonishing performance, and it's irritating to drive in stop-start traffic.
In the end, we've gone with our heart, so second place goes to the Mercedes CLS 63 AMG. Its relaxed character, fantastic engine and sleek looks make it a pleasure to drive, even a low speeds. It's a bit harsh on the RS6, but the AMG simply has a greater capacity to put a smile on your face.