Estate mega-test
Estates face a tough battle against practical MPVs and SUVs. But the latest models are fighting back – and leading the way is Skoda's new Superb. We pitch it against key rivals...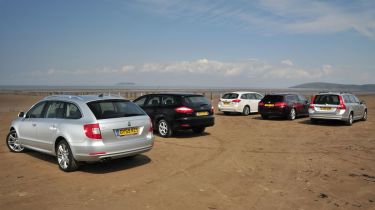 Call them what you like, but it's hard to beat the practicality of an old-fashioned estate. While many of them are dubbed tourers or sportwagons, buyers shouldn't be fooled: whether you're off to the beach for a family holiday or the supermarket for the weekly shop, these cars are more flexible than most.
They have a tough brief, though, as buyers are offered more choice than ever these days. To see off the latest compact MPVs, crossover models and SUVs, modern load carriers need to look good, drive well and be affordable to buy and run.
Skoda hasn't been put off by this list of demands, and its new Superb Estate took the scalp of the Vauxhall Insignia Sports Tourer on its road test debut . Here we rate the company's 168bhp 2.0-litre diesel model against a selection of rivals.
First up is Volvo's V70. The Swedes have a history of building practical family cars, and in DRIVe trim the V70 promises minimal diesel thirst. It's joined by a former class champ, the Ford Mondeo, Honda's Accord provides the style benchmark and Subaru's 4WD Legacy has the kind of estate car heritage some rivals can only dream of.
Verdict
Estates come in all shapes and sizes – but the Skoda Superb is the best of this bunch. Its wide-ranging talents had us looking for weaknesses, and we struggled to find any. Not many cars do what they set out to do quite so effectively; the Estate is even better than the five-door. The Mondeo takes second. While it's as good to drive as it's always been, it can't match the Skoda for interior quality or space. The Volvo isn't cheap, but it's supremely comfortable and practical. Don't be put off by its 1.6-litre engine, as it delivers good economy and surprising pace. Fourth goes to the Honda. It handles well and looks fantastic, yet it's simply not practical enough. That leaves the Subaru bringing up the rear. Its practical boot and four-wheel drive provide genuine appeal, although it has to rank as an alternative choice.
1. Skoda Superb As an estate car, the Superb is without equal here. Not only does it fit the bill as a practical holdall, it's also great to drive, economical and well equipped. The classy cabin and Skoda's brilliant reputation for aftersales service are the icing on the cake.
2. Ford Mondeo The Mondeo is a familiar face in the family car class, yet it shouldn't be ignored. With competitive prices, a decent diesel and practical cabin, it does exactly what you expect. Rivals offer more prestige, but the Ford's sharp dynamics and neat styling take some beating.
3. Volvo V70 Volvo knows a thing or two about building estate cars, and the V70 puts that experience to good use. Only the Skoda beats it for boot space with the rear seats in place, and it's full of useful details. It's pricey in this company, though – even entry-level ES models cost £24,235.
4. Honda Accord We're big fans of the Accord. It looks great, and it backs up its racy styling from behind the wheel by being good to drive, too. It takes fourth place on account of its small boot – it's a rival for family hatchbacks rather than being a proper estate.
5. Subaru Legacy Even though it brings up the rear in this test, the Legacy Sports Tourer is far from disgraced. It's a capable estate that provides the added appeal of four-wheel drive. It's let down by a high price and the fact it looks dated inside and out.