The UK's most economical cars
We run 12 of the UK's most economical cars dry to see which travels furthest on the average fill up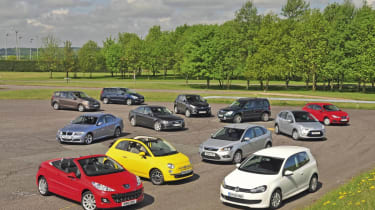 Welcome to the most scientific Auto Express economy test ever! With pump price rises showing no sign of slowing, fuel efficiency is now a top priority for millions of motorists. But just how frugal are the latest fuel-sipping models? To find out, we put the most economical cars from six different sectors to the ultimate test.
We picked two of the most efficient superminis, family hatchbacks, SUVs, compact executives, seven-seaters and cabriolets. All 12 claim official combined fuel consumption in excess of 50mpg. But how far would they go on a £20 fill-up?
That's what we wanted to answer as we set off at a constant 60mph in each car. Plus, to see how they cope in town, we put them through an hour of simulated urban driving. Over three intensive days, our team drove 3,026 miles and spent more than 56 hours at the wheel. After using 230 litres of fuel, the results may surprise you...