The Results...
We've crunched all the numbers to bring you a league table of our economy winners and losers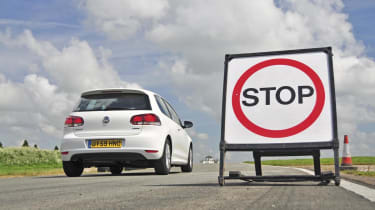 1. Ford Focus- 307.5 miles/ 85.7mpg 2. VW Golf- 281.0 miles/ 78.3mpg 3. BMW 3-Series- 266.0 miles/ 74.1mpg 4. SEAT Ibiza- 244.6 miles/ 69.8mpg 5. Citroen C3- 235.0 miles/ 68.1mpg 6. Renault Grand Scenic- 225.8 miles/ 62.9mpg 7. Fiat 500c- 210.9 miles/ 58.7mpg 8. Audi A4- 207.9/ 57.9mpg 9. Peugeot 207 CC- 207.4 miles/ 57.8mpg 10. Hyundai iX35- 205.1 miles/ 57.1mpg 11. Skoda Yeti- 200.5 miles/ 55.8mpg 12. Peugeot 5008- 197.9 mimles/ 55.1mpg
Verdict What conclusions can we draw from our economy test? Just like in any race, some competitors stood out from the field, other contenders performed as expected and some fell short of the required standard.
Of our 12 frugal models, seven bettered their official combined figures, but a trio of cars stood head and shoulders above the rest. The VW Golf BlueMotion, BMW 320d EfficientDynamics and Ford Focus ECOnetic impressed us in our range test, and the stop-start systems on all three worked brilliantly in the urban loop.
The Fiat 500C was the furthest from its combined official figure, and SEAT's Ibiza Ecomotive felt most compromised by its green tweaks. In fact, it was the only model to really suffer in this respect.
Easily the biggest variation in our test came in the executive car sector, where the 320d comprehensively outclassed the Audi A4 2.0 TDIe.
However, the result that surprised us most of all was the incredible 85.7mpg achieved by the Focus on our constant 60mph loop. If we had filled the hatch's 53-litre tank right up to the brim, it would have driven for an amazing 1,000 miles before running dry!
The Ford wasn't alone in achieving excellence; the Golf and 320d returned 78.3mpg and 74.1mpg respectively. What's more, all three cars combine this fantastic efficiency with strong refinement and driver appeal – so our economy marathon shows that the latest eco models don't demand compromises from behind the wheel.