Lexus CT200h vs BMW 1-Series
The CT200h is looking to shake up the premium hatch market, but can it defeat a more conventional diesel powered BMW 1-series?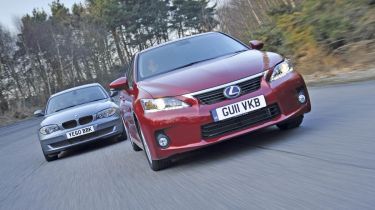 Prestige brands are keen to embrace the green agenda, but there is more than one way to cut emissions. Lexus is leading the hybrid trail, and its new CT 200h is sure to attract attention in the compact premium market with its CO2 output of only 94g/km.
Until now, BMW has ruled supreme in this class with its 1-Series, and low emissions are a key part of the car's appeal. So can the diesel-engined 118d, which produces 119g/km, compete with this hi-tech contender? 
These models adhere to the national stereotypes of their respective nations. The Lexus hails from Japan – a country famed for its love of advanced technology and the electronics capital of the world. It aims to optimise fuel economy using a complicated recipe, and mixes a clever 98bhp petrol engine with an 81bhp motor/generator and high-voltage nickel-metal hydride battery.
This set-up produces a combined output of 134bhp – and also allows the smooth and quiet low-speed progress that's central to the glitzy TV advertising campaign starring singer Kylie Minogue.
Looming large in the Lexus' mirrors is the 118d. It applies German logic to the problem of fuel consumption, and makes the most of what traditional technology has to offer. Its 143bhp 2.0-litre diesel features stop-start, brake energy regeneration and low-friction lubricants. 
Despite all of this, the BMW is neither as efficient nor as well equipped as its gadget-laden rival. But it does have price on its side in the quest for compact premium domination...
Verdict
These machines fight for the same slice of the compact prestige sector, but they're chalk and cheese. The automatic Lexus will appeal to go-getting execs who value equipment and a low tax burden over driving pleasure and style – yet is that enough to secure a maiden test win? Not for us. We understand why company car drivers will be stopped in their tracks by the CT 200h's incredible combination of low emissions and generous kit. But it looks dated and is uninspiring to drive, while the small boot will rule it out for any young families. For us, the BMW is worth the compromise of its higher tax rating and lower kit count. Once the novelty of all-electric driving has faded in the Lexus, there's little to get excited about behind the wheel. Yet the 1-Series can light up any trip with its precision and performance – and private buyers will relish its lower price, too.