VW Amarok vs rivals
Can VW's rugged Amarok pick-up blur the boundaries between luxury 4x4 and commercial vehicle? We pitch it against a Nissan truck and a Kia SUV.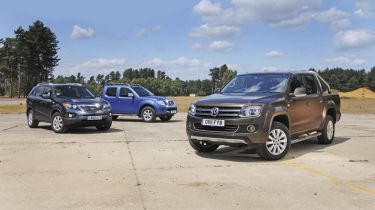 Attractive tax breaks make double-cab pick-ups an enticing choice for company car buyers – but none has fully bridged the gap between modern 4x4 and commercial vehicle. The new Volkswagen Amarok is aiming to do just that, and is the only car of its type to be designed and engineered in Europe.
The promise of sophisticated driving dynamics and road car refinement makes this highly practical machine a potential game-changer in the rugged pick-up market. It boasts a 2.0-litre diesel, six-
speed manual gearbox and fully selectable four-wheel drive. There's no doubting its off-road credentials, but that won't be what determines its fate in this test.
The VW isn't the only pick-up capable of tempting middle managers, because the Nissan Navara has been a favourite since it was launched back in 2005. It has a spacious cabin, powerful engine
and a chassis designed to cope with everything from muddy building sites to smooth motorways.
To see how the Amarok measures up as a 4x4, we've pitched it against a value-for-money SUV with hidden talents. The Kia Sorento has seven seats, a refined cabin and a driving experience that owes more to a car than to a traditional pick-up. It will provide the acid test for the upmarket Amarok in the second of our shoot-outs.
Verdict
So, has VW managed to combine the best of the pick-up and SUV worlds in one package? Well, the Amarok gets off to a solid start by beating the Nissan in the first of its twin test encounters. The proven Navara is a good-looking and well equipped choice, and it offers better straight-line performance than its rival. But it's no match for the Amarok's refinement, quality, driver appeal or running costs. Things aren't as clear cut for the VW against the Kia. For capacity and sheer ruggedness, the Amarok doesn't disappoint. But the Sorento will be a better choice for most buyers. In KX-2 trim, it's great value for money, while the powerful engine and refined drivetrain put it in a different league to the more agricultural pick-up. Then there's the sheer size of the Amarok, which makes simple jobs more stressful – even parallel parking effectively requires two car-length berths. So while the VW sets new standards in the pick-up sector, it still demands too many compromises to eclipse the Kia Sorento for SUV appeal.