Renault Fluence Z.E. vs Nissan Leaf
New Renault Fluence Z.E. meets Nissan Leaf in first electric car head-to-head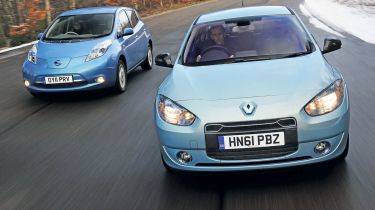 If you have a green conscience, or are simply getting tired of rocketing fuel prices, there is an alternative. Last year, Nissan unveiled the all-electric Leaf family car and now it has a rival in the shape of sister company Renault's Fluence Z.E.
Although these manufacturers have close links, the Fluence isn't a simple Leaf clone. Rather than getting a dedicated platform, it's effectively based on Mégane saloon underpinnings, and its electric motor doesn't produce as much power as the Nissan's. But if you think that puts the Renault at a disadvantage, don't write it off just yet, because it's cheaper than its futuristic-looking cousin.
You lease its batteries for an extra monthly cost, but even when this is taken into account, the Fluence is still less expensive. It comes in two trim levels and we pitted the top-of-the-range Dynamique against the Leaf. The Renault costs £18,395 including the Government's £5,000 grant, but will it prove worth the investment?
Verdict
This is a historic moment for Auto Express, as it's the first time we've pitted a pair of electric cars against each other. Critics will argue that our contenders are too expensive, that electricity isn't any greener than petrol or diesel or that their limited range makes them irrelevant, but they do have a place in the UK.
More reviews
Car group tests
In-depth reviews
Road tests
As means of cutting pollution in our cities and slashing energy bills, the Fluence Z.E. and Leaf should be applauded – they're the first of their kind. Both put the emphasis on simplicity, ease of use and comfort rather than handling, performance and fun, so choosing between them doesn't come down to how they drive. The Nissan is faster than the Renault, but that isn't enough to guarantee victory.
What sets them apart is the way they're pitched – and this is where we think the Leaf has the advantage. It backs up its higher price with a more adventurous design and more enticing ownership proposition.In contrast, the Renault looks dated and feels as if it's been built down to a price.
The cheaper Fluence Z.E. will appeal to the corporate world, where every penny has to be accounted for, it's cheaper only in years one to three and we think discerning private and company car buyers would rather have a Leaf plugged in to the other end of their charging cables.
WinnerNissan Leaf ★★★
The original all-electric family hatch is still the best. Costing £25,990 (including the Government's £5,000 grant), the Leaf certainly doesn't come cheap, but that price covers the batteries and gets you a car that really lives up to the promise of its hi-tech underpinnings. If you want to feel like you're driving the future every day, the Nissan remains the stand-out choice.
2nd Renault Fluence Z.E. ★★
On paper, the Renault has plenty going for it, but the Fluence Z.E. is soundly beaten here. Its run-of-the-mill Megane cabin jars with the hi-tech drivetrain under its bonnet, and the battery pack takes up a lot of boot space. We think the Leaf makes a much better attempt at answering the electric car question for now.