Infotainment test: best in-car entertainment systems reviewed
Who makes the best in-car entertainment and sat-nav systems? Our top 10 includes verdicts on Audi, Ford and Vauxhall systems
Digital technology has transformed the way in-car entertainment and information is delivered, and for many drivers nowadays their car's 'infotainment' system is as important as its performance on the road.
The vast range of technology on offer includes everything from familiar audio systems, to sat-nav and smartphone pairing. Many screen-based systems also double up to control functions like cabin climate, driving modes, and everything from your car's security alarm to its automatic windscreen wiper settings.
While the array of new technology built into new models is easily adopted and understood by many drivers, to others it can be a bit of a minefield. A survey by BookMyGarage.com showed that over 70% of Brits do not fully understand the systems in their cars today, yet more than 50 per cent of the drivers in the same survey chose their cars because those systems were included.
• Best parking app for your phone
If you're going to buy a car with stacked out with navigation, audio and connectivity technology, you need to be able to use the functions on offer or you're wasting money. Unfortunately, not all manufacturer systems are as clear and straightforward to operate as they might be, and there are a variety of control interfaces, menu systems and display set-ups to choose from.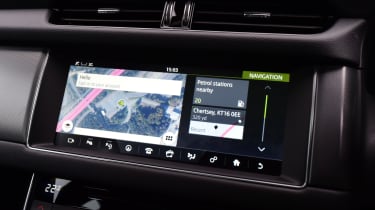 With the help of Alphr.com we've tested the onboard infotainment systems from all the major manufacturers, and rated them for usability and their 'intuitive' feel. We picked the 10 most searched-for car brands, and split the test into five sections, comparing the rival infotainment systems for their usability, performance, connectivity, sat-nav, and, finally, their cost. Each car was awarded marks out of five for each test category – and here are the factors we rated:
Usability
How quickly can the in-car entertainment system be used? Are the functions simple? How many steps does it take to change a setting? Driver distraction is a key factor in road accidents, with your risk of an accident increased 24-fold with every two seconds looking away from the road, so this is really important.
Performance
Is the interface simple but comprehensive? We tested the colour quality and brightness. As we all know, a slow system can be extremely irritating and distracting, so we tested the car's internet speed and voice control system.
• Android Auto: user guide and review
Connectivity
As most of us now consider our mobile devices to be an extension of ourselves, the option to connect these to the car is vital. We looked at how easy it is to link various phones to each system, also testing whether the device was remembered after being paired. We also tested any onboard apps or systems, such as Mirrorlink.
Satellite navigation
Sat-nav is one of the most used functions in modern cars, so we tested the same route across all the systems, looking for map quality, accuracy and ease of use.
Cost
The bottom line. How much does it all cost? We compared systems and various add-ons to see how far your money goes on each manufacturer's set-up.
Watch our videos
Verdict
There were distinct winners and losers when taking each area of focus into consideration, but all of the infotainment systems we tested scored more than an average of 3 out of 5.
Nissan's CONNECT system scored the lowest score in our individual categories, with Performance only being rated 2 out of 5, while Mercedes' COMAND tech's high price tag meant it's cost score came in at 2.5 out of 5.
SEAT scored the biggest number of 5 out of 5 scores in the individual categories and had the highest overall score, with BMW, Audi and Vauxhall not far behind.
Best in-car infotainment systems
Do you find your car's infotainment system easy to use? Let us know in the comments section below...