Ferrari 812 Superfast - best supercars
Does the Ferrari 812 live up to the legacy left by the F12? You bet it does...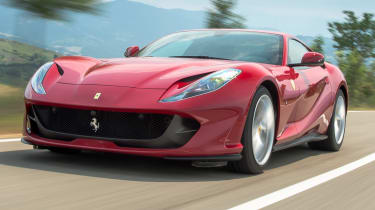 The say-it-as-you-see-it Superfast is for drivers wanting a blisteringly quick, front engined, rear wheel drive supercar. Not only that, but the 812 is more comfortable, more luxurious and more civilised than the old F12. The 6.5-litre V12 engine produces 789bhp and will charge forward until it tops out at 211mph. Changing gear is taken care of with a seven-speed dual-clutch gearbox, which has shorter gearing and faster shifts than its predecessor.
• Ferrari 812 Superfast review
However, despite the performance updates, it's the chassis and aerodynamic packages that have undergone the greatest changes. There is also a new rear-wheel-drive steering system, third generation electronic differential, torque variable electronic power steering, and handily, Ferrari's Slide Slip Control as first seen on the 458 Speciale.
To add to the overhaul, the kerbweight has been reduced by 60kg. However, the 812 Superfast is not intended to be a lightweight track car, as proven by the tyres which come with the car – Pirelli P-Zeros. So while the Superfast is still a supercar, it has definitely been designed for the road.
Top 10 best supercars 2019
Ferrari 812 Superfast