Ferrari LaFerrari vs McLaren P1 vs Porsche 918 Spyder: hypercar battle
The Ferrari LaFerrari hypercar has arrived, but how does it stack up against its rivals from McLaren and Porsche?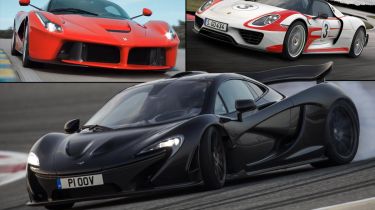 With Ferrari's new LaFerrari hypercar finally joining the McLaren P1 and Porsche 918 Spyder under the review spotlight, we've decided to take this opportunity to consider just how the three stack up against one another.
The debate surrounding these amazing vehicles is likely to rage on for months – if not years – to come, so we're going to try and remove all emotion and consider this incredible trio based on facts and figures alone…
• Read our full review Ferrari LaFerrari review round-up
Battle of the hypercars: Performance
McLaren's petrol-electric P1 is driven by a highly-tuned 727bhp 3.8-litre twin-turbo V8 engine, coupled with a 176bhp lightweight electric motor, meaning total output equalling 903bhp.
On its way to a top speed of 217mph, the rear-wheel drive McLaren will accelerate from 0-62mph in just 2.8 seconds, 0-124mph in 6.8 seconds and 0-186mph in 16.5 seconds. That last figure is 5.5 seconds quicker than the legendary McLaren F1 and about the same as a standard Bugatti Veyron.
By comparison, Porsche's AWD hybrid offering shares some of its design with the brand's Le Mans racer, producing 600bhp on its own from a mid-mounted 4.6-litre V8 engine. This is coupled to two electric motors – one at each axle – that can drive the wheel independently or work in tandem with the engine to boost performance.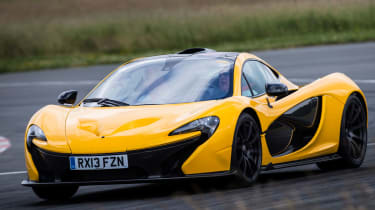 Linked up for a full-out thrash, the 875bhp 918 Spyder will see off 0-62mph in 2.5 seconds and hit 214mph.
Power for the LaFerrari comes from a 789bhp version of the F12's 6.3-litre V12, working in tandem with a 161bhp electric motor to drive the rear axle only.
In contrast to its rivals, the Ferrari is setup without an electric-only mode for short-distance town cruising – the V12 is tuned to produce its best at high revs and combines with the motor's high torque, low rev output.
With a total of 950bhp, it outstrips both the Porsche and McLaren, which according to the Maranello-based marque means 0-62mph apparently takes "less than three seconds", while 0-124mph is managed in "under seven seconds". The exact top speed is also a closely guarded secret, although Ferrari has revealed it to be in excess of the P1's 217mph.
• All the latest Ferrari LaFerrari news
Battle of the hypercars: Design
Just as it's hard to separate these cars based on performance, there's little to choose from when it comes to appearance. Distinctive brand styling cues aside, the trio share similar dimensions, the LaFerrari is 4,702mm long and 1,992mm wide, with 2,650mm wheelbase. This is longer and wider than both the McLaren and Porsche, although each exceeds the Ferrari in terms of distance between the wheels, with respective lengths of 2,670mm and 2,730mm.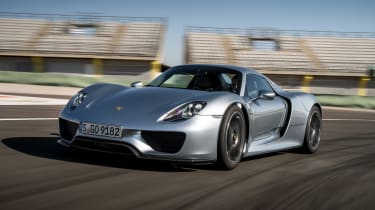 Weight is a better indicator of the unique approaches used to build the three hypercars – at 1634kg the 918 Spyder is the heaviest, with the Ferrari exactly 200kg lighter than the middleweight 1450kg P1.
Battle of the hypercars: Efficiency
This Porsche's additional weight is partly the result of a more complicated hybrid system, which returns just 70g/km of CO2 and can manage a combined 94.1mpg. The P1 is no slouch either: its 194g/km emissions figure and claimed economy of 34mpg is about the same as that of a Ford S-MAX 2.0 EcoBoost, with claimed economy figures of 34mpg.
Even though the non plug-in Ferrari manages a rather less efficient 330g/km of CO2 on the official cycle, this is still an impressively low figure from its hybrid system given the level of performance on offer.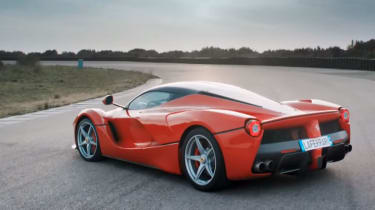 Battle of the hypercars: Price
As befits mind-blowing performance from three of the world's premier supercar manufacturers, these flagship models command something of a price tag.
The Porsche is the 'budget' option, coming in at £712,088, whereas a P1 is slightly more expensive at £866,000. Meanwhile, Ferrari's LaFerrari is priced from £1,150,000, so it leads the way on performance and cost.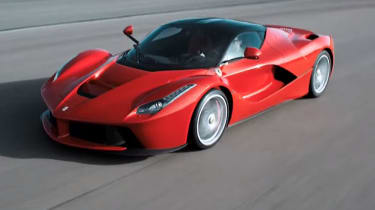 Battle of the hypercars: Availability
Before you make to withdraw any life savings, it's worth noting that only a limited number of these cars will be produced, and many have already been sold. In fact, Ferrari has already found buyers for all 499 LaFerrari models, and that's also the case for McLaren's 375 P1s, leaving only the Porsche 918 Spyder for hypercar fans with cash to burn.
You'll have to move fast though, as orders are reportedly coming in fast, despite customers having slightly more of a chance thanks to Porsche's plan to manufacture a numerically-suitable 918 units of the 918 Spyder. If such excessive numbers from the German manufacturer are off-putting, a £60,000 Weissach Package does offer added exclusivity and "a more performance-oriented finish", which Porsche expects around 25 per cent of buyers to select.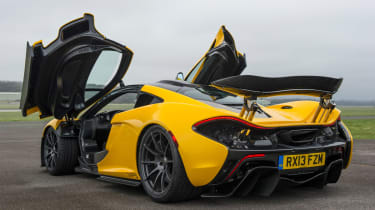 Ferrari LaFerrari vs McLaren P1 vs Porsche 918 Spyder: facts at a glance
For a full rundown of all the key stats, take a look at the table below…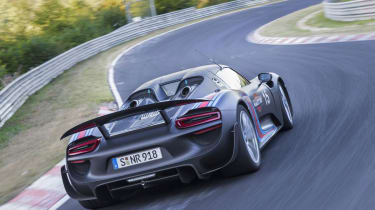 And that brings us to the most important question of all. Which is your pick of the incredible current hypercar crop? Tell us in the comments section below...