Ford Focus 1.0 EcoBoost Titanium X review
We try updated Ford Focus 1.0-litre EcoBoost on UK roads in top-spec Titanium X trim
Getting the Focus back on UK roads proves it's improved in many areas – but still lags behind the VW Golf for absolute refinement and tech quality. It's an entertaining car to drive though – like a big Fiesta, in fact, and that's standard whether you're lusting after the lairy ST hot hatch or a basic Studio model for £13,995. After driving the Titianium X, the message is simple: opt for a simpler, better-value spec and you've got yourself a great buy.
Sixteen years after the first Ford Focus arrived in the UK, the facelifted, rethought third-gen model has landed in what should be one of its friendliest markets. We love the Focus – Brits has bought 1.87m since 1998, including 252,000 of the pre-facelift third-generation car.
Now it's back, and on looks alone deserves to sell just as many again. The facelifted Focus looks so much smarter than the old one – sharp S-MAX style headlights slot in where once there were blobby lenses, and a slimmer chrome grille appears where once there was fake plastic panelling. The rear lights are slimmer, the wheel designs more intricate, and the colour palette more appetising. This is easily the coolest, freshest-looking Focus since the mould-breaking original.
Inside, you'll quickly spot it's the plushest too. Caveat time – this test car is a range-topping Titanium X version with a few choice options we'll cover shortly. Material quality has leapt for the new Focus, but so it should have. For a Focus Titanium X with the 1.0-litre Ecoboost engine, you're asked to shell out £22,295. Well into VW Golf territory, in other words.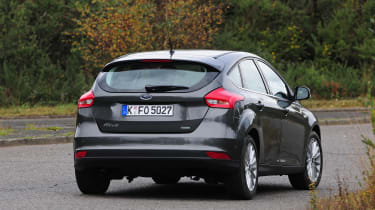 Every Focus gets a great chassis – a slick, forgiving set-up that feels just as adjustable as the class-leading Fiesta and keeps the fun-factor the new Mondeo has lost. The steering is beautifully weighted, the damping a superb compromise for British roads, and despite only developing 123bhp, the engine is a fine fit for the Focus. With up to 200Nm of torque on overboost mode for overtaking, it feels eager and peppy, but remains refined when asked. However, we're not convinced by the car's performance in the higher gears, due to the very long gearing Ford has likely been forced into choosing for maximum points in the EU fuel and CO2 cycle.
Sixth is almost like an overdrive ratio, which, if selected just a few miles per hour too early, leaves the engine labouring and completely bereft of urge. Getting a smooth change from first to second is also more of a challenge than in, say, an Astra, though the Mazda 3 and SEAT Leon also suffer similar gearbox-related woes - and all can boast strong cruising refinement on the upside. Certainly, the Focus is quieter overall than before, but it is very surface-sensitive – tyre noise skyrockets when you transfer from frequently resurfaced tarmac to shoddy old surfaces at British motorway speeds.
Fortunately, there's plenty of kit to help justify our test car's loftyprice, including an active parking gadget that'll handle reverse bay- and parallel-parking manoeuvres.
To that, our test car added £3840 of options. The priciest at £600 is 'Windsor' leather seats, which both look like and feel too close to a synthetic faux-leather to be worth that outlay. Several of the other options are suspect too: £450 for the driving assistance pack brings handy traffic sign recognition and lane-departure warnings, but the frontal collision warning is stupidly overactive, activating so many times unnecessarily during our test drive it eventually malfunctioned, flashing a new and equally annoying 'failure' notice on the dashboard thereafter.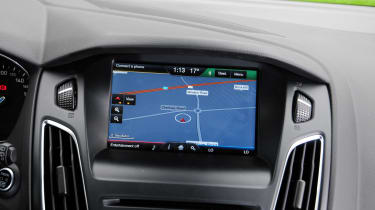 Also suspect is the £400 navigation system, which has vague graphics when you most need clear ones, at tricky junctions, and has very poor route selection when you need rerouting around traffic. Keyless-go (£250) and a heated steering wheel (£95) are nice, but hardly must-haves. The only option you simply must select are the £85 door protectors - slim rubber sleeves which slide out of the door structure when the door is opened to protect against parking dings. It's an elegant, simple idea that every car should have.
The spec for this car then is a little over-egged – but the good news is that choose wisely on the options list and you don't need the thick end of £26,000 to get a good Ford Focus.