Honda Civic Tourer axed and diesel engines could go the same way
Practical Honda Civic Tourer estate will not be replaced, while future diesel Hondas are in doubt as bosses focus on electrification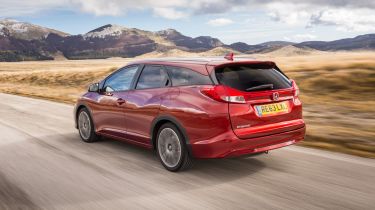 The outgoing Honda Civic Tourer estate will end production this year, with no direct replacement planned for the future. The news comes just as the brand prepares its showrooms for an all-new Civic hatchback – a car widely considered a big improvement over its uninspiring predecessor.
Speaking from the launch of the new car in Barcelona, UK managing director Dave Hodgetts told Auto Express that the decision had been made "not to sell [the Tourer] in this model cycle."
With Honda marketing its 10th-generation Civic as a 'global' car, the Europe-only Tourer will be the first model to fall victim to the brand's new international sales strategy. Lack of interest in more practical estate models across the world – especially in the USA and China – will see the Peugeot 308 SW rival consigned to the history books.
Is Honda preparing to ditch diesel?
Hodgetts hinted that in the future, more business decisions would be viewed through a wider-angle lens. Honda's commitment to diesel engines could be among the first questions, with diesel's future uncertain beyond the middle of the next decade.
While a revised version of the current 1.6-litre i-DTEC diesel will arrive in the Honda Civic later this year, the UK boss suggested this could be its last iteration before the company focuses its expertise on electrification and hydrogen fuel cells.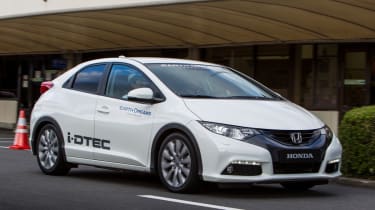 Following the announcement regarding Honda's fuel cell manufacturing tie-up with Vauxhall parent company General Motors, it's clear that an alternatively-fuelled future is on the radar. The 50:50 partnership will form part of Honda's wider electrification programme, with a brand spokesperson suggesting that it expects as many as 66 per cent of global car sales to feature some form of plug-in or fuel cell technology by 2030.
The first Honda to receive an electric boost will be the new CR-V, which is due to launch in the UK later this year. It'll go on sale with a range of turbocharged petrol and diesel engines to begin with, but a PHEV will join the line-up later.
The platform, which also underpins the new Civic, has been designed from the outset with electrification in mind. While Honda bosses say there are "no plans" to introduce a plug-in powertrain on the C-segment family hatchback, they do admit that it "could work".
Will you be sad to see the back of Honda's Civic estate? Let us know in the comments...