Honda Insight
New hybrid looks great value. How does it cope with UK roads?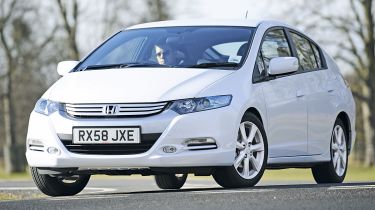 The Insight's major selling point will be its price, with even the top-spec car less than Toyota's base Prius. Light steering and a smooth CVT box make for strong refinement, while the cabin feels futuristic. Honda could have been bolder with the styling, though – then it could have attracted a whole new market all of its own.
The new Honda Insight has finally hit UK roads – in the hands of Auto Express!
With its Ice White finish, our car's futuristic appearance instantly gives it the edge over its main hybrid rival, the Toyota Prius. Inside is a space-age array of dials and LCD displays, bombarding the driver with all the vital statistics – and it looks great.
It's just a shame that there's evidence of cost-cutting – some cheap plastics are used – while the top of the steering wheel blocked the speedo once we were comfortable in our seat.
Overall, the design is a step forward for a petrol-electric car. However, we think Honda could have been even bolder to attract younger, more style-conscious buyers.
The firm's Integrated Motor Assist (IMA) system was used in the original Insight and the current Civic Hybrid, and the latest incarnation of the drivetrain is lighter and more compact than ever before. The 87bhp 1.3-litre petrol engine is assisted by a 14bhp electric motor, which at times powers the car on its own.
More reviews
Car group tests
In-depth reviews
Long-term tests
Road tests
Advances in technology mean the cylinders can be shut down when the engine isn't needed – such as when slowing down or cruising at low speed. An ECON switch increases the energy captured during brake regeneration, smooths out gearshifts and limits power and torque to boost efficiency.
But technology alone can't maximise fuel economy; Honda knows owners have a role to play, too. That's why it's come up with the Eco Assist system, which displays graphics of plants growing or disappearing on the central screen depending on how 'green' you're driving.
On the road, the Insight rides well – more like a family saloon than a reasonably priced hatch. The CVT gearbox picks the ideal ratio at any engine speed, and on part throttle acceleration is smooth. Flex your right foot and refinement deteriorates rapidly, although light steering makes the car easy to drive. Just don't expect hot hatch thrills.
Whether or not you see hybrids as the future, the Insight is a compelling package – mixing affordable prices, tiny fuel bills and forward-thinking design.
Rival: VW Golf Bluemotion Conventionally powered Golf is one of the most economical hatches around. Longer gears, improved aerodynamics and low-resistance tyres help it achieve 62.8mpg and 119g/km, yet it retains standard car's dynamics.