'Truth is, Samsung, LG Chem and other Korean firms are merely warming up'
This week Mike Rutherford talks about the rise of Korean car manufacturers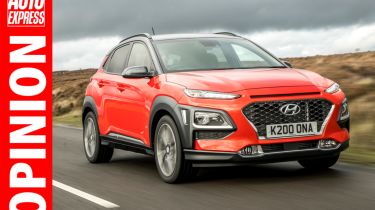 On the eve of 1988's scorching Summer Olympic Games in Seoul, we Brits could have bought any Korean car we liked; as long as it was a Hyundai, often featuring a nasty blue interior and an even nastier pea green paintjob. Rightly, we didn't queue to buy 'em. 
Wind forward three decades and during this, the first week of the Winter Olympics in PyeongChang, just up the icy mountain road from Seoul, and Hyundais are selling big time to UK consumers. As are Kias. And with SsangYong SUVs also in the mix, the Koreans will again shift around 200,000 cars to Brits this year. Not bad. But nowhere near good enough for a still ambitious, if tiny, north east Asian country that already builds about the same number of cars annually (3.9 million) as the wobbly, considerably larger USA. 
• Winter car checklist: driving kit and best buys
Truth is, the Koreans are merely warming up when it comes to this car building lark. The above established marques will continue to do their thing. But there's no reason why automotive brands from the recent past including Panther (sports cars), Asia Motors (great little SUVs) and Daewoo (cheap urban family runabouts) can't and won't return to or make their debuts in UK sales outlets. Oullim and Proto are others with potential. 
Smaller, intriguing, even lesser known marques are too numerous to mention and wait in the wings. Mighty Samsung Motors may appear to be an insignificant automotive player at present. But it's just helped the Renault-Nissan family it is part of to become the top-selling car manufacturer on earth. And just as Hyundai wisely broke away from Mercedes and Kia split from Ford/Mazda, don't rule out Samsung going it alone as a builder of premium part or pure-electric vehicles that'll pair with your Samsung phone, computer or entertainment systems. 
Also, nothing would delight a powerfully mischievous Samsung more than to tread on the sensitive automotive toes of Hyundai, because they are bitter rivals and there's bad blood between the two clans. But the dark horse that is LG Chem could yet emerge as the cleverest and most significant Korean firm on the global EV stage. How come? It's already the world's number one supplier of rechargeable battery packs for vehicle manufacturers. 
And it's no exaggeration to say that without LG Chem, there would be no Ford Focus Electric, Renault ZOE/Fluence/Twizy, Chevrolet Bolt/Spark, Hyundai Ioniq and countless other pure or part-electric cars from the likes of Audi, Volvo, Cadillac and Kia. Not so little and not so old LG Chem is probably the greatest automotive firm you've never heard of. Ignore it at your peril.
Korean cars may be selling well the world over, but did they pick up any awards in the Auto Express New Car Awards this year? Click here to find out.