Jaguar XK Dynamic R review
Final version of Jag's coupe, the Jaguar XK Dynamic R, is arguably the best yet
If you always wanted a Jaguar XK, now's the time to take the plunge. The XK Dynamic R offers not just a £10,000 saving, but the best blend of performance and style. Suspension from the XKR-S improves body control without spoiling the ride, while the sports exhaust and bodywork add aural and visual punch. Its successor has some big boots to fill.
It's hard to say goodbye to a car we love as much as the Jaguar XK, which ended its nine-year production run last month, but Jaguar has softened the blow with the release of the XK Dynamic R.
Effectively a run-out special that replaces the XKR, it comes packed with equipment and costs £10,000 less than a similarly-specced car would have just a few months ago, and £27,515 less than the range-topping XKR-S. You'll have to be quick to get hold of one, though - once the current dealer stock is gone, you won't be able to buy one.
The 503bhp supercharged V8 engine and six-speed automatic gearbox have been carried over, but you now get the Black Dynamic Pack and Speed Pack as standard. That means stiffer suspension knuckles, springs and dampers from the XKR-S and a 10mm reduction in ride height, as well as a top speed raised from 155mph to 174mph, a larger front splitter, spoiler and side skirts, plus a performance exhaust.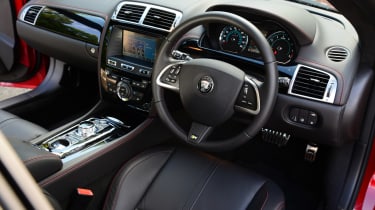 Climb inside and while the switchgear, smaller central screen and last-generation infotainment system seem dated next to the F-Type, there's nothing old-school about the way it goes. Select Dynamic mode to sharpen up throttle response and open up the pipes and straight-line acceleration is huge, accompanied by an intoxicating gargle from the quad exhausts. A performance exhaust is fitted as standard and emits a delicious V8 gargle, especially when the XK is in Dynamic mode.
The transmission feels a little lazier in its responses than the F-Type's eight-speed 'box, but then the XK's demeanour is altogether more relaxed.
Turn the traction control into 'Trac' mode or off and the 1.7-tonne XK is happy to chew up its rear tyres and slide around anything resembling a corner, but it doesn't have anywhere near the precision or agility of an F-Type. Far better, then, to use it as a sumptuous cruiser – even with these firmer suspension settings – capable of a stunning turn of pace where the roads allow.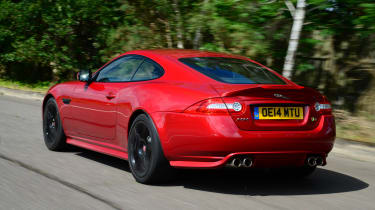 Interior fit and finish is still first rate with lashings of chrome and piano black trim, while a rising gear selector adds a dash of drama. The Dynamic R has 20-inch Vortex diamond-turned alloys with red calipers as standard, and gloss black Vulcan rims are optional.
We'll miss the XK's curvy styling, bellowing V8 and huge performance, so it's fitting that Jaguar saved our favourite version of the XK for last.