Land Rover Discovery 2014 review
Land Rover Discovery 2014 model gets new facelift and series of technical upgrades to keep it fresh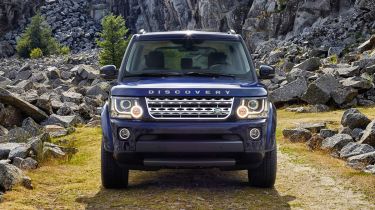 The modest tweaks to the Land Rover Discovery can't hide the fact that it is starting to show its age. The new model feels heavy, a bit noisy and just a little out of step with current trends – despite its improved economy figures. However, it's still a fantastic all-rounder that's comfortable on the road, exceptionally capable off it and can carry you, your family and all your stuff around in a way that very few rivals can.
The Land Rover Discovery hit the road nine years ago. But a series of nips, tucks and technical upgrades during that time has helped keep the 4x4 fresh, and this is the latest 2014 model year version.
• Land Rover Disovery 4 in-depth review 
The biggest technical change is that the only engine option – JLR's potent 3.0-litre SDV6 diesel – gets a stop-start system. On paper, this cuts CO2 emissions from 230g/km to 213g/km and ups claimed fuel economy from 32.1mpg to 35.3mpg – dropping the car by one road tax band in the process.
In practice, the system cuts and restarts the engine smoothly, and doesn't unduly trouble the smooth eight-speed auto gearbox when the engine fires back up again.
Otherwise, the driving experience remains unchanged, with a high driving position giving you a great view out over the Discovery's square bonnet. The ride is very comfortable, and wind and engine noise are kept well down at lower speeds, although that refinement is spoiled slightly by the wind noise caused by the car's brick-like aerodynamics.
However, the Discovery really feels its weight, particularly if you've driven one of the latest, lighter Range Rovers. With a couple of people and luggage on board, the big SUV weighs around three tonnes, so handling isn't exactly composed, and if you corner quickly, you and your passengers will hurled out of your seats. This was less of an issue when the Discovery launched, but newer rivals are starting to make it seem rather old fashioned. That said, it's still an immensely practical car, with loads of space for five people, plus an extra pair of seats in the boot.
It's also crept further upmarket, with this latest revision offering new technology, including Blind Spot Monitoring, which flickers a little amber light in each door mirror if there's a vehicle alongside you. You can also get T-junction cameras, which show images from a small camera in each side of the front bumper on the centre screen. These come in handy when you're squeezing out of a tight junction.
As ever, the Discovery remains fantastic off-road. New tech here includes Land Rover's Wade Assist, which uses sonar sensors on each door mirror to work out how deep any water ahead of the car is, and does a fairly accurate job of warning you if you're likely to exceed the Discovery's maximum wading depth.
There is a new look to complement the upgrades, which brings more modern-looking headlights, a new front bumper and some new alloy wheel designs. The Discovery is still a pricey option, but the £1,275 premium our test car carries over the model it replaces seems reasonable.
Perhaps the biggest switch is the name. It was once Discovery 3, then Discovery 4, and this latest model is now just plain Discovery – with the letters replacing the word Land Rover across the leading edge of the bonnet. This is part of the company's plan to make the Discovery a brand in its own right, so it's a name we'll be seeing for a lot longer yet.