Land Rover Freelander vs rivals
Can the revised Land Rover Freelander hold its own against the Audi Q5 and Volvo XC60? We put it to the test...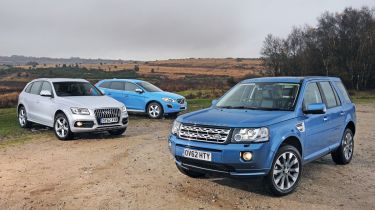 Land Rover has been on a roll. The Discovery is still the full-size 4x4 benchmark, the all-new Range Rover has been launched to glowing reviews and the trendy Evoque continues to be one of the hottest cars of the moment. But the company hasn't been ignoring its massively successful entry-level model, the Freelander. The 2013 version comes with a slightly remodelled exterior and an updated cabin, as well as new trim levels.
Land Rover isn't the only manufacturer trying to stay on top of the competitive compact SUV class. The Audi Q5 has also benefited from a range of updates, including cleaner engines and subtle styling changes, along with revisions to its suspension and steering systems.
All this makes the competition even tougher for the practical and well designed Volvo XC60. Revised engines promise improved efficiency, while this car still sets the style standard.
So which one of these classy compact SUVs should you be putting your money on?
Verdict
If you were expecting a heavily revised Freelander, you'll be disappointed. This is more of a mild makeover than a full facelift, with tweaked looks and an updated cabin being the most significant changes.
Yet the Land Rover is still a fine all-rounder that strikes a very attractive balance between ride, comfort and handling. Its off-road ability is unmatched here, and the comfortable interior still exudes a rugged charm. Unfortunately, emissions haven't been improved at all.
The Audi is much cleaner, and also has a more upmarket cabin, bigger boot and slightly greater passenger space. Stunning residuals add to its appeal. This compact SUV matches premium desirability to financial sense. It's a clear winner.
Sadly, the attractive-looking and powerful Volvo is outclassed in very nearly every area by its rivals and finishes in third place.