McLaren 720S - best supercars
The UK's answer to the Ferrari 488, only with more power, more performance and a drop more practicality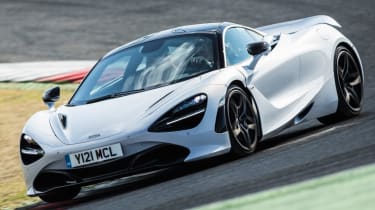 The McLaren 720S is not that far off the staggering performance of the P1 hypercar, but sits in the range above the company's Sports Series cars. It is powered by a 4.0-litre twin turbo V8 which produces 720PS (710bhp) – hence the name.
Surprisingly for a supercar, the 720S rides extremely well. The interconnected hydraulic suspension soaks up bumps on the road, however, that isn't going to win you a game of Top Trumps. Being able to go from a standstill to 62mph in just 2.8 seconds and continuing on to a top speed of 212mph might, though, and in this regard the 720S is more than capable.
To buy one, you will need at least £208,000 for the most basic model, but get trigger happy with the options and that figure will start to rise rapidly. Unlike McLaren's previous infotainment systems, the 720S comes with a much more usable package, thanks in part to McLaren getting third party help to make sure the system matches the high performance nature of the rest of the car.
Top 10 best supercars 2019