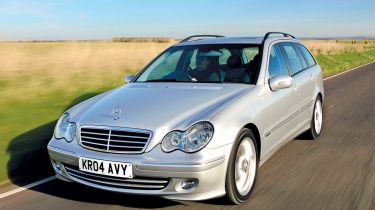 Overall Average Rating - 86.41%Position in the Top 100 cars - 32nd
Ratings
Position in the Top 100 carsReliability: 43rdBuild Quality: 33rdRunning Costs: 67thPerformance: 38thBraking: 33rdRide Quality: 12thHandling: 44thPracticality: 61stComfort: 43rdEase of Driving: 8th
Your Quotes
"Very reliable and has only had things replaced under a recall from the manufacturer."
Mr Eric Pirie - Aberdeen
"Very good car. Dealer service slowly improving."
Mr Jonathan Andrews - Reading
"Fine car would go for a smaller engine next time did not realise that a C240 have a V6 2600 engine when purchased."
Mr Brian Davis - 123 Wells Rd.
"This car has given me approx two years of troublefree motoring - the car has been serviced via approved garage at moderate cost for parts and labour - the only snag is, it is slightly poor on fuel consumption - build quality is excellent."
Mr S Marbaha - Middx
Manufacturer Verdict (Position - 13th)
A mixed bag of results for Mercedes reflects turbulent times. While its current crop of models challenge for class honours in nearly every area of the market, durability has been problematic in recent years –– 27th out of 37 for reliability is not acceptable. And an unusually high proportion of almost 12 per cent of Merc owners said they wouldn''t buy another model from the firm again.