MINI JCW GP vs Renaultsport Megane Cup
The new JCW GP is the fastest, most extreme MINI ever. We pitch it against the Renaultsport Megane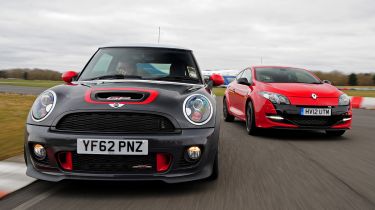 If you like your hot hatch thrills extreme and undiluted, there's great news – the MINI John Cooper Works GP is back.
The 2006 original was the last hurrah of the Mk1 MINI. Motorsport-inspired suspension, an upgraded engine and a stripped-out interior gave it uncompromising driving dynamics, and made it a favourite of hot hatch enthusiasts.
Now, MINI has followed the same formula to create a GP version of the current JCW. Like its predecessor, it's limited to 2,000 cars and comes with a unique paintjob, red mirrors, bold rear wing and a no-frills cabin that ditches the rear seats to save weight.
Yet it's not the only hatch to offer hardcore thrills. The Renaultsport Megane Cup isn't the most rounded of packages, but for driving fun it's hard to beat. It's also more powerful and cheaper than the MINI. So which model offers the ultimate in driver engagement?
Verdict
The MINI John Cooper Works GP delivers a masterclass in how to make a front-wheel-drive car thrilling. It provides pure driving pleasure and undiluted engagement with the road.
There are compromises that have to be made in comfort and refinement, but if you rate driving fun above all else, the GP will not disappoint. Think of it as the hot hatch version of fantastic road racers like the BMW M3 CSL and Porsche 911 GT3, and you wouldn't be far wrong. In fact, the no-compromise performance-focused nature means it's closer in spirit to the last-generation Megane R26.R than the current Cup version tested here.
But the latest Renault is still seriously capable, and has the added advantage of a five-seat cabin and great practicality. Yet even in Cup chassis specification, it doesn't quite offer the raw fun factor of the MINI, while it still has a firm enough edge to be a little tiring as a day-to-day choice.
In this test, we're looking for the ultimate driver's choice – a car you'd take out just for the fun of it. And on that basis, the MINI JCW GP takes the spoils. Factor in its low emissions, strong residuals and fixed-price servicing, and you could almost suggest it appeals to the head as well as the heart.