Nissan 370Z NISMO review
We get behind the wheel of the updated Nissan 370Z NISMO, powered by a 339bhp 3.7-litre V6
Nissan has taken its time to produce a more focused 370Z, and the Nismo will appeal to loyal Z customers. It turns up the dial on the standard car's brutish pace, aggressive looks and lively handling. But it could have gone further – while this is a better 370Z, there are still stronger rivals, and it's hard to ignore the £10,000 price hike.
Rather than blistering pace, Nissan's NISMO tuning arm is all about offering 'accessible performance' and the spec sheet shows the refreshed 370Z NISMO ticks all the relevant boxes to deliver just that.
Rear-wheel drive, a six-speed manual gearbox and a brawny 339bhp are what you get whether you like it or not. The 3.7-litre V6 remains untouched but Nissan has added a new dual sports exhaust, a set of hip-hugging Recaro sports seats and new 19-inch alloy wheels.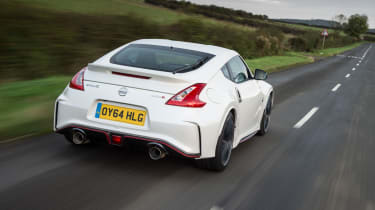 The bodykit may not be to everyone's taste but it does serve a purpose. The front air intake is larger, the rear wing smaller and new air inlets ahead of the front wheels all increase downforce. The £10,000 extra you'll pay for the NISMO over the standard 370Z also gives you slightly softer damper settings than previous model, although still firmer than the standard car.
Peak power arrives at 5,200rpm but the revs aren't as eager to build as you'd expect and for the most part it doesn't feel or sound like 339bhp worth of power, although you can't argue with 0-62mph in 5.2 seconds – just 0.5 seconds faster than the Porsche Cayman.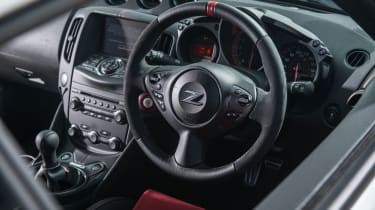 The manual gearbox is a highlight however, with short and well-weighted changes plus automatic blips of the throttle on downshifts thanks to the clever SynchroRev system. If you prefer man over machine, don't worry, you can turn it off.
It certainly feels more agile and planted than the base model, and the hefty steering makes it quite physical to drive, but the changes don't propel the NISMO into Porsche Cayman realms of capability. It feels heavier and more ungainly in comparison to the Porsche, despite the basic Cayman costing just a couple of thousand pounds more at £39,694.
The retuned suspension keeps the 370Z NISMO flat in corners and marginally more receptive to quicker steering inputs, but the traction control is far too eager to cut in and spoil the fun – if you haven't got the talent to switch it off entirely, that is.
Click here for a full review of the Nissan 370Z.